Wed., Aug. 19, 2009, 2:18 p.m.
Former Trus Joist execs bring firm back to Boise
A landmark Boise timber products company is returning to the Idaho's capital city - kind of. A group of former executives of Trus Joist Corp., along with Atlas Holdings LLC, has purchased the commercial division of Trus Joist from Weyerhaeuser, its current owner, and will headquarter their new firm in Boise. The new firm is being called "RedBuilt," in tribute to Trus Joist co-founder Harold "Red" Thomas and the company he built. Thomas is among the investors in the new firm.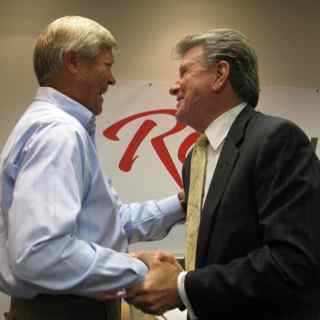 "We're back in Boise because we think this is the place it belongs, and we have a team that can make it go," Thomas declared. "It makes me feel 40 years younger, because that's where we started this company in 1960." Trus Joist pioneered a type of engineered lumber that revolutionized the wood products industry; while Weyerhaeuser will retain the Trus Joist name for its residential-construction wood products, the new RedBuilt name will go on the new firm's products for commercial, industrial and multifamily markets. RedBuilt has 234 employees, 32 of them in Boise; president and CEO Kurt Liebich said he expects Boise operations to expand. You can read my full story here at spokesman.com.
---
---