Tue., July 7, 2009, 7:21 a.m.
Luna: 'It's still a high bar'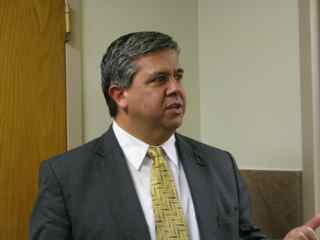 State Superintendent of Schools Tom Luna says he's always been an advocate of lowering the supermajority to pass school bonds, while also reducing the number of possible dates when bond elections can be held. The successful legislation this year to consolidate elections, which will reduce school bond votes to only four dates starting in 2011, just did half of that - and would therefore, on its own, make it tougher for Idaho school districts to build new schools. "I think you've raised the bar considerably," Luna told Eye on Boise. "And I don't think that was necessarily the intent of all of those who supported election consolidation - it sure wasn't my expectation that we would stop with just election consolidation."

Luna, who will propose a constitutional amendment to lawmakers in January to lower the supermajority from two-thirds to 60 percent, said, "I think it's still a high bar the districts need to get over in order to pass local bonds and levies." Election consolidation means "you're going to see a lot more people show up at the polls," he said. "I'm not predicting that it will mean that districts will have an easier time. Quite frankly, with more, quite possibly with seven or eight times more people showing up at the polls, 60 percent is still going to be a high bar to get over."

He acknowledged that numerous past efforts to lower the supermajority have failed, but said they never had election consolidation already in place. "It's not going to be an easy process - it's not easy to change the constitution, it shouldn't be easy," he said. "But I think it's a worthy cause. I think that people will see the value and the reasons for doing it. I think we'll be successful."


---
---