Tue., July 21, 2009, 4:24 p.m.
Otter praises lottery's 'self-taxation'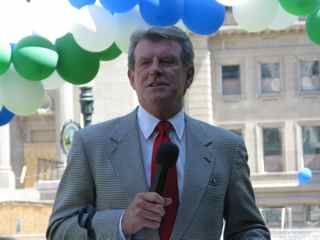 Gov. Butch Otter today approvingly called the Idaho Lottery "probably the clearest form of self-taxation that we have in the state." Here's a link to the governor talking about how much the lottery has raised for schools and state buildings in Idaho in the past 20 years, how much the state needs money right now, and how "we appreciate the people taxing themselves, voluntarily, through the lottery." When Idaho's state lottery commission chairman, Roger Jones, made ready to present this year's check to Otter on Tuesday, he said amid some laughter, "We're able to give another million dollars more than last year. ... Maybe it's all spent, Butch, I don't know."
---
---