Mon., June 29, 2009, 12:59 p.m.
When health insurance is priced out of reach
Young Idaho mom Amanda Buchanan picked up an old copy of "Consumer Reports" in her local library in Weiser and began leafing through it last year, and saw a call for health care stories that people wanted to share. She had just the thing. Now, the magazine's "Cover America Tour" project has made the young, uninsured Idaho mom the face of health care challenges in Idaho - and she's hosting a letter-writing event for health care reform today at Boise's Municipal Park. Consumer Reports suggested it as a way to do something about the problem, she explained; she's by the big, yellow banners that say "Write a Letter for Health Care Reform," and is scheduled to be there until 5.

Amanda and husband Jason Vlcek wanted to have a second child, but adding the family to his insurance coverage at work - he's an elementary school teacher - would cost the young family $820 a month in premiums, 34 percent of their household income. They couldn't afford it. "It got to the point where the insurance was just too high - it was eating into our basic needs," Buchanan said. She wondered if they could afford to have a second child.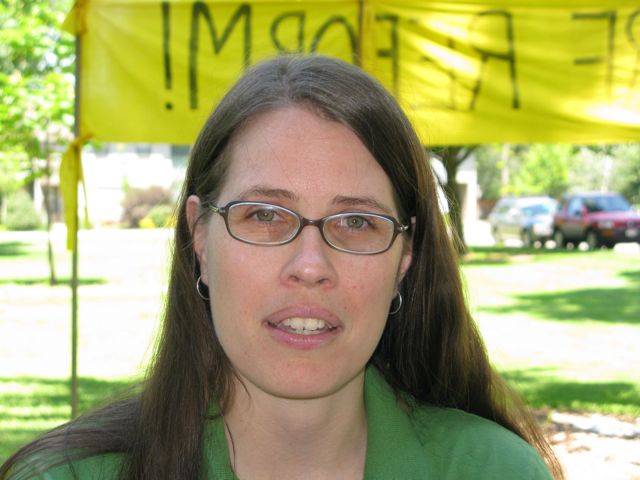 A private policy for Amanda cost less, but carried an additional $5,000 maternity deductible.  They decided on a plan: She'd buy private insurance, but after the baby was born, she'd cancel hers, and use that money to pay down her medical debt, while purchasing a separate private policy just for the new baby. Meanwhile, Jason's school district began offering a "catastrophic" insurance plan, with a $3,000 deductible, after which only 50 percent of costs are paid. They signed Jason and toddler son Kwei up. "I just wasn't going to leave him uninsured," she said, watching the active 2-year-old toddle around the park. New baby Merin is now six months old.

State Rep. John Rusche, D-Lewiston, a physician and the House minority leader, said when lawmakers commissioned a study of the uninsured in Idaho, "It's just these people - young, employed. ... typically young people, who were working but just couldn't afford it." The 2007 study showed 18 percent of Idaho's non-elderly population uninsured, but much higher figures for young adults - 38 percent for those age 18 to 24, and 28 percent for those age 25 to 34; it also showed that 60 percent of Idaho's uninsured adults are employed.

Amanda knows she's taking a risk, and it concerns her. But she and her family also are healthy - aside from giving birth, she's never been admitted to a hospital, and hasn't gone to the doctor since 2004. "The fact is, the cost of decent insurance cripples my family financially," she said.
---
---