Back to work in Capitol
Legislative budget director Cathy Holland-Smith, right, and budget analyst Paul Headlee, left, work on budget issues amid the boxes on the third floor of the state Capitol today. Legislative Services workers were the first to move back into the newly renovated Capitol and go to work; they started moving in yesterday.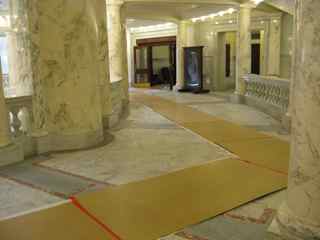 Over the next three weeks, elected officials including the governor will follow, and the newly renovated state Capitol will open to the public on Jan. 9 at noon. For now, construction workers are still around for some finishing touches, and protective covering has been laid across the newly refinished marble floors to allow furniture to be moved back in without damaging or marring the finish.
---
---