Tue., Nov. 24, 2009, 4:33 p.m.
Wasden: Mortgage-rescue scams now top complaint, Idahoans beware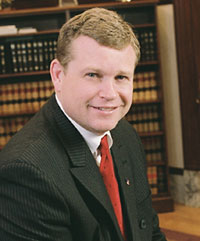 With two lawsuits pending against Kootenai County mortgage modification services and several other investigations ongoing statewide, Idaho Attorney General Lawrence Wasden is calling on Idahoans to beware of companies that offer to help those facing home foreclosures - for an up-front fee. "Most of the time, the people operating modification companies are unqualified and unlicensed, with no experience in the mortgage industry," Wasden said. "Even if their initial intentions are noble, they soon discover they cannot fulfill the promises they made to consumers. Inevitably, the company closes or files bankruptcy, and homeowners are left in a worse position than before they contacted the company."
Anyone having trouble paying their mortgage should contact their lender directly, the attorney general said. Homeowners who have difficulty negotiating a modification can get help from a nonprofit housing counselor; information on the process is available in a new free brochure from Wasden's office. The brochure, "Foreclosure Prevention and Foreclosure Scams: How to Tell the Difference," is available online at www.ag.idaho.gov, or by calling toll-free (800) 432-3545.
   
Wasden recently filed a lawsuit against APS Northwest Idaho LLC, a Kootenai County mortgage modification company, for numerous violations of the Idaho Consumer Protection Act. He'd earlier filed a similar lawsuit against Coeur d'Alene-based Apply 2 Save, which is now in bankruptcy, and reached a separate settlement with a former Apply 2 Save executive.
"This year we've received more complaints about companies that offer mortgage modification services than any other type of business," Wasden said. He encouraged Idahoans to report any instances of foreclosure rescue fraud to his office and the Idaho Department of Finance; both agencies have complaint forms on their Web sites. The Department of Finance Web site is http://finance.idaho.gov.
---
---