FRIDAY, OCT. 30, 2009, 2:36 P.M.
Guv: 'Turning parking lot into a real highway again'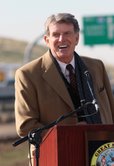 Gov. Butch Otter celebrated today at a ceremony marking the completion of a project to widen the most-traveled section of I-84 in Idaho, between Meridian and Garrity Road. "Finally we're turning this twice-a-day, six-and-a-half-mile-long parking lot into a real highway again," Otter said. "Now it's going to be the kind of route that families and businesses won't go out of their way to avoid; it will be the kind of highway that attracts businesses, career-path jobs and economic opportunities." The project added a third lane in each direction to the 6.5 mile stretch of interstate. It was funded by GARVEE bonds, which stands for Grant Anticipation Revenue Vehicles. The special type of bonds, created by Congress, allows states to borrow against their future federal highway allocations.

"Our communities are only as strong as our ability to bring people, products and ideas together, through technology and infrastructure," Otter said. "Completing this stretch of interstate shows our commitment to that goal." One mile of the new third lane will remain closed under the Ten Mile Overpass until next spring to allow for construction of a new interchange there. In addition to the third lane in each direction, the $113 million project also prepared the highway for a fourth lane that will open in 2011.
---
---