Wed., Aug. 11, 2010, 10:54 a.m.
Idaho GOP criticizes Minnick flier on voter ID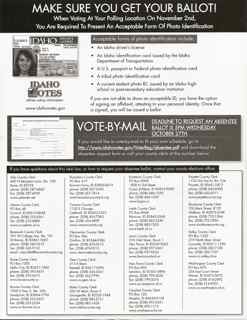 The Idaho Republican Party is criticizing Democratic Congressman Walt Minnick for sending 100,000 fliers to Idaho voters Aug. 3 to inform them about Idaho's new voter I.D. law, which now requires voters to show photo I.D. at the polls when they go to vote; the law took effect July 1. The fliers, headed, "Idaho Voting Laws Have Changed," were sent at taxpayer expense from Minnick's congressional office, a fact that's noted on the fliers. Minnick's defending the fliers as an appropriate use of his office funds; Idaho Statesman reporter Dan Popkey has a full story on the dustup here.
---
---