MONDAY, AUG. 16, 2010, 3:02 P.M.
F&G Commission: 'Pursue all options'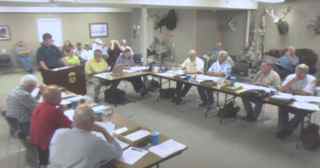 Fish & Game commissioners have approved a resolution to call for an appeal of the federal court decision putting wolves back on the endangered species list; calling for working with the governor and Idaho's congressional delegation on legislation addressing the issue; pursuing all available management options under Section 10(j) of the Endangered Species Act to address wolf attacks on livestock or big game herds; and continuing to play a major role in day-to-day wolf management in Idaho, which U.S. Fish & Wildlife officials told the commission they thought was appropriate, though commissioners said they don't want any sportsman dollars spent on wolf management, restricting that to federal funds. "We may be waging a lot of battles on a lot of fronts, but at this point in time, we just need to pursue all available options," said Commissioner Randy Budge of Pocatello. Said Commissioner Gary Power, "If you aren't in the game you don't have a place at the table."

The department already has received nearly 100 comments on its proposal to remove all but 20 to 30 wolves from the Lolo zone for the next five years; public comments are being taken on that proposal for two weeks.
---
---