Mon., Aug. 16, 2010, 12:31 p.m.
Fish & Game opens wolf meeting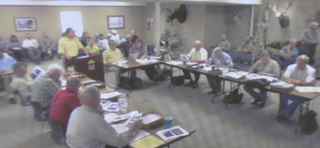 Idaho's Fish & Game Commission was supposed to meet today to set wolf-hunting seasons, but since a federal judge re-listed wolves on the endangered species list, that's off the table; instead, the commission's agenda at its Idaho Falls meeting today includes a proposal to kill 70 to 80 percent of the wolves now in the Lolo zone in the Clearwater drainage, one of 29 wolf management zones in the state, out of concern for elk herds there. The proposal comes under Section 10(j) of the Endangered Species Act, which allows states management flexibility to address wolf depredations on livestock and "unacceptable impacts" on wild game herds. The commission meeting is being shown by video link-ups at regional offices around the state. Fish & Game on Friday opened a 14-day public comment period on the Lolo wolf-kill plan, which would affect about 7 percent of the state's minimum wolf population of 835.
---
---