Mon., Aug. 16, 2010, 1:13 p.m.
FWS official on wolves: 'Idaho did everything right'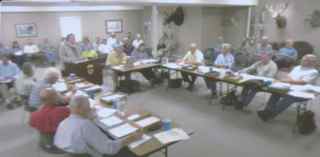 Robin Thorson, regional director of the U.S. Fish & Wildlife Service, says the federal service is "standing ready to receive Idaho's proposal to control wolves" in portions of its population due to impacts on elk. "Once we receive it, we'll turn it around in no more than 60 days," Thorson told the Idaho Fish & Game Commission today. "We anticipate approval of the opportunity ... but that depends on the rule, so we don't want to prejudge that," she said. Idaho, she said, "did everything right" to move toward delisting and recovery of wolves. "Your actions succeeded and wolves were delisted because they were recovered here. ... You were rewarded for getting that job done, and now we are having to withhold that reward." Said Thorson, "This was a federal rule that failed, and it failed Idaho. We regret that. We believed that this path was merited, and the court disagreed."

Wolves were re-listed as endangered, she said, not because of Idaho's actions, but because a federal court rejected the FWS strategy of delisting in Idaho and Montana but not in Wyoming. "We're still near the finish line," she said. "We hope the momentum of Idaho for the successes that you've achieved will continue with Idaho at the helm." She called the court decision "a profound disappointment." At this point, she said, a sport hunt would be unlikely to be approved because of the risk of it not standing up in court.
---
---