Fri., Sept. 3, 2010, 8:09 a.m.
More balloons over Boise…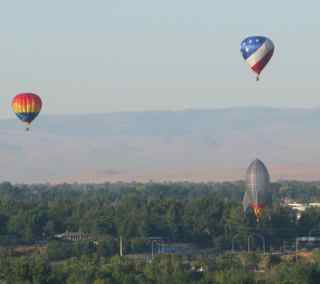 I counted 24 hot-air balloons in the sky over Boise at once this morning, including one shaped like a rocket ship. Many drifted low and leisurely from their Ann Morrison Park launch over the city, roughly following the path of the Boise River and gliding on the light east wind, before eventually picking their landing spots and settling gently into the sea of trees. A few went high, their bright colors dimming to mere dots on the horizon.

Conditions were great this morning for the Spirit of Boise Balloon Classic, and they're predicted to be the same tomorrow, before a big change in the weather hits Sunday, with forecast highs of 69, down from the low 90s today and Saturday, and possible northwest wind gusts on Sunday morning up to 30 mph. Tomorrow's looking great, though. The Balloon Classic tomorrow will include a pancake breakfast from 7 to 9 a.m. at the park; a balloon competition in addition to the morning launch; and a balloon "Night Glow" light show and concert in the park from 6-10 p.m.
---
---