Mon., Sept. 20, 2010, 9:27 a.m.
Hawk makes a house call…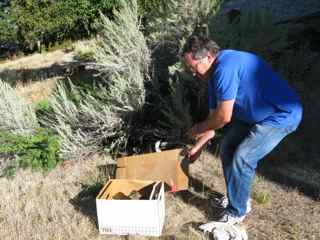 There was a loud thud against the living room window this morning, startling the cat who was looking out the window, and something large fell outside. Looking out, expecting perhaps a pigeon (it was too big for a quail), we were surprised to find a stunned Cooper's hawk down on the ground below the second-story window, lying on its back unconscious. This is one of those Boise experiences. A quick call to the experts yielded instructions to put the injured bird in a box covered by a towel to recover; by that time, it had opened one eye and was starting to come around.

My husband took the bird off to a raptor rehabilitator, who checked out the hawk, a one-year-old female, and declared her sound and able to fly - and feisty as could be (her talons drew blood in the process). Then, we were instructed to release the hawk in our backyard, where it came from. When the box was uncovered, the hawk sat for a moment, looking around, then with a rush of wings, flew to the top of a tall tree, where it's now resting comfortably and eyeing the view.
---
---