Mon., Jan. 17, 2011, 10:45 a.m.
Tea party rally features music, exhortations
More than 200 people gathered on the steps of the state Capitol for a tea party rally on this Martin Luther King/Idaho Human Rights Day holiday today, while a knot of protesters waving a drawing of Martin Luther King Jr. and signs saying "No Tea for Me" protested from across the street. Wayne Hoffman, head of the Idaho Freedom Foundation, exhorted the crowd to push lawmakers to, among other things, do away with Idaho's state employee retirement system.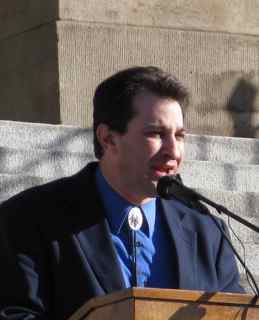 "Let's get out of these lifetime pensions that are siphoning the taxpayers' dollars," he declared to cheers, adding that school teachers also should be ejected from the system. "It's time to pull the plug on the state teachers' union being a part of the private-public state employees retirement system," Hoffman said.

Rep. Pete Nielsen, R-Mountain Home, told the crowd, "I'm so proud of you, because you've given me hope. Prior to the tea parties being organized, the majority was clearly silent." He also urged the group to avoid demonizing its enemies. "Their fruits will identify them. We need our fruits to identify us," Nielsen told the crowd. At the side of the steps, a charcoal portrait of President Barack Obama with swastikas in each of his eyeballs was leaned against the concrete wall on display.

The rally included music; two Nampa High School students sang the national anthem, and David Westmoreland performed an upbeat, country-style rendition of "Take Our Country Back" that had members of a uniformed mariachi band, on their way into the capitol to participate in today's official state MLK/Human Rights Day observance, clapping along.
---
---