WEDNESDAY, JUNE 1, 2011, 10:09 A.M.
Quilt commemorates fallen soldiers, displayed in Idaho state capitol
A quilt commemorating fallen soldiers from all 50 states and all branches of military service is in the Idaho state capitol today, where it will be displayed through Monday; Idaho is the 31st state to host the quilt so far, which will arrive in Washington, D.C. by Sept. 11, 2011 and be displayed at Arlington National Cemetery Visitors Center until Veterans Day 2011, before permanent placement in a museum. Childhood photos of fallen military members represent each state; Idaho is represented by Cpl. Carrie French, who was 19 when she was killed by an improvised explosive device in Iraq in 2005; according to the Idaho National Guard, she was the first Idaho female to die in military conflict.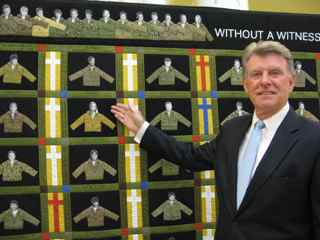 French's mom, Paula Hylinski, called the "Lost Heroes Art Quilt" "just beautiful," and said, "You want people to remember. It's really nice to know that this is going to go into a museum, and be seen for a long time. People are not going to forget my child."

The quilt, created by artist Julie Feingold, is being displayed in the 2nd floor rotunda of the state Capitol, where officials including Gov. Butch Otter, right, and Idaho National Guard Adjutant General Gary Sayler, left, joined Hylinski, center, to welcome it this morning. The artist's concept was to use childhood photos of each of the lost military members, "evoking the potential of his or her life." In addition to the 50 squares representing each state, another 32 "lost heroes" are pictured around the quilt's borders, including Curtis Ralph Hall of Twin Falls, who died in combat in 2007. The slogan at the top of the quilt says, "Without a witness, they will disappear."
---
---