MONDAY, JUNE 6, 2011, 5:11 P.M.
Referendum backers deliver petitions to qualify measures for 2012 ballot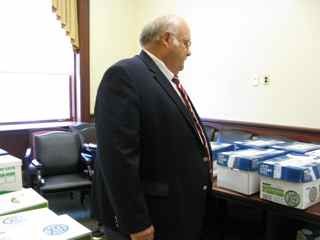 Backers of three referendum measures to overturn this year's school reform bills formed a line outside the state Capitol this afternoon under a light rain, stretching from a truck parked at the corner of 6th and Jefferson streets all the way inside the state Capitol, where they passed 125 boxes of verified petition signatures from hand to hand, then loaded them on carts and delivered them to the Idaho Secretary of State's office. The referenda needed at least 47,432 valid registered voters' signatures each to make the 2012 ballot, but far more than that were delivered. "They're about 25,000 over what they need," said Secretary of State Ben Ysursa, looking over the boxes, which were stacked in his small conference room, nearly filling the room. "This is more than we've ever seen – seventy-some thousand times three. That's the most we've ever seen, times three."

The Secretary of State's office will count the verified signatures over the next two days or so, before making the official announcement that the measures will be on the ballot, but Ysursa said that's pretty well assured.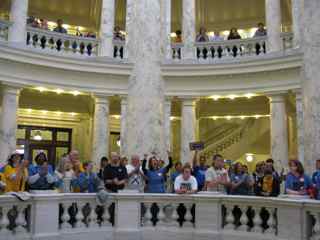 More than 100 supporters wearing bright-yellow, blue and white T-shirts with slogans including "Idaho says NO to larger class sizes," "Idaho says no more cuts," and "Idaho says no to replacing teachers with laptops," gathered afterward to rally in the Capitol rotunda. "This is a huge achievement," Mike Lanza, a Boise parent and chairman of Idahoans for Responsible Education Reform, told the group. "We're turning in 72,000 to 73,000 signatures on petitions that we needed 47,000 for. … This is not a vocal minority, as some people have claimed. This is the people of Idaho … who think this is a bad plan for Idaho schools."

Lanza said he was "pleasantly surprised" that the group gathered so many signatures. "Certainly we assumed at the start it was going to be a challenge," he said. In the final two weeks, after state schools Supt. Tom Luna issued a memo warning teachers statewide that their certification could be endangered if they engaged in political activity at school, the numbers surged, Lanza said. "That motivated people more," he said. "It was incredible to see." Addressing the crowd, Lanza said, "The people of Idaho will finally have their say on these widely unpopular laws. … By turning in these kinds of numbers, we have sent a powerful message: Idaho's parents and educators will not be ignored."

Mountain View High School English teacher Sally Mitchell told the crowd, "The misguided and mean-spirited attacks on teachers by those in office are inexcusable. Standing up for my profession does not make me a thug." She said, "Our power as citizens is ultimately greater than theirs."

The three bills eliminate most collective bargaining rights for teachers; impose a new merit-pay bonus system; and shift funds from teacher salaries to technology investments and more online learning. All three passed the Legislature this year and were signed into law by Gov. Butch Otter, who joined Luna in championing the reform package they dubbed "Students Come First."
---
---