Mon., Nov. 7, 2011, 1:38 p.m.
'Occupy Boise' encampment hits Day 3
More than 40 tents are now pitched on the lawn of the old Ada County Courthouse as part of the "Occupy Boise" encampment, but only a little over a dozen people were there early this afternoon, quietly talking, sitting in the sun, listening to classical music on the radio and, in one case, working on a laptop computer. A sign inked on cardboard next to the food tent announces the encampment's "good neighbor policy," which includes "zero tolerance for drugs or alcohol anywhere in our encampment."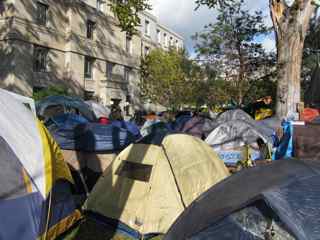 The scent of freshly donated corn bread and soup wafts around the encampment as a white-haired Vietnam veteran who gives his name as David Redfeather relaxes in a lawn chair. "I just came by - I was on my way back from the V.A.," he said, "so they asked me if I wanted to join." He said he's planning to stick around, "Because I don't believe in corporate greed." A 21-year-old transient with facial tattoos who goes by the name Seesea has spent two nights at the encampment in a cardboard refrigerator box, covered with a tarp and insulated with leaves. "It's been amazing," he said. "I feel that the community mentality is on point. Everyone has a sense of that and everyone is acting on that."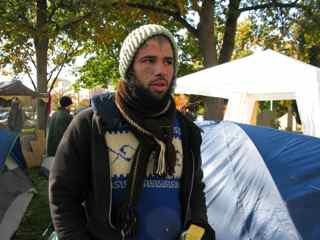 His neighbors are staying mostly in nearly-new camping tents, and many are gone during the day. "There still are folks that have jobs, that need to work," Seesea said. "I've 100 percent devoted all my time to social change." Signs around the encampment have slogans including, "Veterans for Peace - Abolish All War," "Gov't Inc." with a slashed circle over it, and "We are the 99 percent, We the people not we the corporations." Another says, "Why should I pay for your greed???" while one lettered on a big piece of cardboard decries CCA, the Corrections Corporation of America, which runs Idaho's troubled privately-run prison south of Boise. "You crush the soul of people in the name of justice," the sign declares." Another just says, "Think."

A volunteer with the group who didn't want to be named said donations have been pouring in, from hot food and warm clothes to cash. At the group's general assembly tomorrow, it'll debate whether to rent a handicap-accessible Porta-Potty for the encampment. The encampment started Saturday, and so far has weathered two cold nights and Boise's first snow.
---
---