Tue., Nov. 8, 2011, 11:06 a.m.
It's Election Day in Idaho…
It's Election Day for nonpartisan city races across Idaho today, and the polls are open until 8 p.m. Things weren't exactly busy when I stopped in at my local polling place to vote this morning; just a trickle of voters was showing up to vote for positions including mayor and city council posts. For Boise-area races, some resources about voting and the candidates include the Ada County elections office website here, the Idaho Statesman's election page here and KTVB-TV's voter guide here. In North Idaho, check out the Spokesman-Review's North Idaho election page here, and the Kootenai County elections office website here. The Idaho Association of Counties has a guide to all 44 counties here, including links to their websites.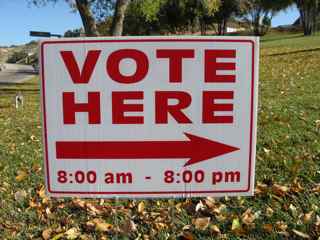 Just nonpartisan races are up for a vote today, including city offices, other nonpartisan taxing districts, and city or taxing district ballot measures. Idaho Secretary of State Ben Ysursa said turnout in nonpartisan city elections often is "pretty low," but noted, "Candidates and issues make turnout." Among races drawing attention today are the mayor's race in Eagle, city council races in Kootenai County and a vote on a plastic grocery bag ban in Hailey.

Ysursa said off-year elections like this year's typically see low turnout, sometimes down in the teens as far as the percentage of registered voters. "Without the parties and the money being spent big-time on advertising and whatever, you just don't lots of times see the turnout that you should, in my opinion, in these nonpartisan elections," he said. "But they're very important, and some would say affect our lives more directly than the statewide or the federal offices, because you deal with them every day."
---
---