Capitol tunnel to get an art facelift
Wall paintings done by high school students from past decades, some 30 years old, some fading, long have adorned the underground tunnel that connects the state Capitol with the J.R. Williams Building and the Len B. Jordan building across State Street. When the Capitol was renovated, officials wanted to do something to update the tunnel art, too, but it never happened. Today, a committee of state lawmakers, after some debate, voted to move toward painting over the tunnel art and replacing it with 4-by-4-foot reproductions of Ward Hooper art depicting Idaho's 44 counties. Then, they'd like to see a statewide high school art competition launched for the right to display works in the Statehouse - but they'd like them to be shown in a public area, like the new wings, rather than in the tunnel, which is generally used only by state employees and authorized personnel.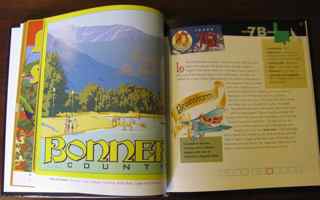 Idaho Legislative Services Director Jeff Youtz reported to the Capitol Services Committee that he met with first lady Lori Otter and her staff, and Otter proposed the Hooper art - which she owns, as it's depicted in her children's book, "Ida Tours the 44: A Book of Idaho's Counties." The cost to the state would be minimal; just the $100 or so to create each of the 44 canvases from the existing digital images and hang them in the tunnel; there's leftover money in the capitol relocation budget to cover the cost. Sen. Joe Stegner, R-Lewiston, said he thought the plan would "freshen up the tunnel," and Rep. Max Black, R-Boise, said, "I think that would make a very attractive tunnel, as opposed to a tunnel, what it is right now."

Senate President Pro-Tem Brent Hill, R-Rexburg, countered, "I really do like the tunnel the way it is." He said when he sees the decades-old high school students' paintings, he thinks to himself, "That's neat. ... What a part of history." Sen. Edgar Malepeai, D-Pocatello, likened it to historic graffiti he saw recently at Alcatraz. But Stegner said, "I don't see down in the tunnel a whole lot, in my mind, to preserve. ... If we want to freshen that up right away, this idea is as good as any." The 44-counties art could be up by the next legislative session, Youtz said; some of the newer wall paintings in the tunnel, including an anti-drug message, likely would be retained.

Said Sen. Chuck Winder, R-Meridian, "This is the state Capitol, and representing the 44 counties would be a positive." The first lady's book is the second in the Lori & Butch Otter Education Series, published in 2010 by Boise State University; the first was "Ida Visits the Capitol," which teaches kids about the state Capitol. In the counties book, Ida flies around the state to each county in alphabetical order, learning about each along the way.
---
---