Thu., Sept. 1, 2011, 12:12 p.m.
Balloons over Boise…
Twenty-two hot-air balloons launched into the skies over Boise this morning, and 30 are expected to launch each morning tomorrow, Saturday and Sunday, as part of the Spirit of Boise Balloon Classic. "It was 20 years ago this morning that 10 balloons lifted off in this park for the first Boise River Festival," Scott Spencer, producer of the event, told the balloon pilots at their pilots' meeting early this morning. "There are five pilots in this room this morning that have actually been here for every single launch that we've done from this field."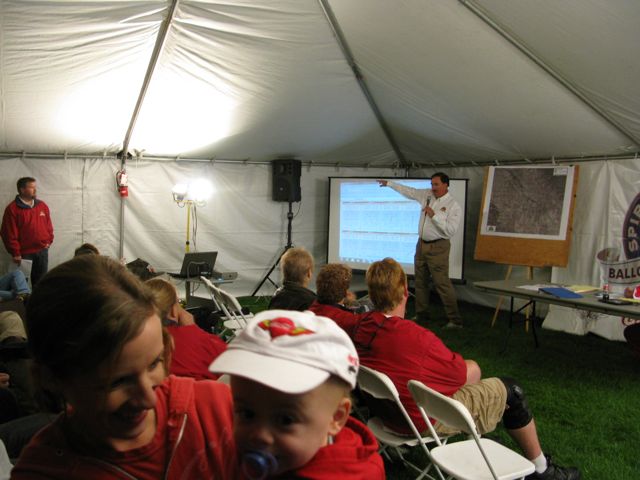 During the pilots' meeting, in a large tent at Ann Morrison Park, KTVB-TV weathercaster Larry Gebert shared detailed wind and weather information, including a spreadsheet projected on a screen showing 10 dials, each with various measures of wind speed and direction. Gebert, who's provided weather reports at all the launches in the past two decades, said it was developed by his brother who's an aerospace engineer at Lockheed Martin; it shows readings taken every 15 seconds, and forecast good conditions for this morning's launch. "This is very similar stuff to what they use for missile launches," Gebert said, adding to laughter, "There's one very brilliant member of our family, and he's not standing here in front of you today."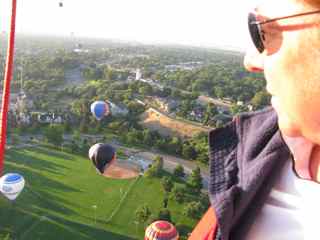 Knowing those wind speeds at various elevations is key to how hot-air balloons navigate - they can move up or down to catch a stronger or lighter breeze. Spencer said, "Apparently it is rocket science."

Spencer said that yesterday, 10 balloons landed at Boise schools, to the students' delight - five of them at South Junior High alone. Pilot Val Favicchio of Coeur d'Alene, who yesterday landed at Sacred Heart school, today set her balloon down in a dusty clearing next to some railroad tracks near Federal Way, after a brush with a big pine tree kept her from her first choice of a landing spot, a grassy field nearby free of powerlines. Favicchio, who's been ballooning for 18 years and is flying the "Spirit of Boise" balloon at this year's rally, said ballooning is unique: "It's calm and exhilarating and serene, all at the same time."

---
---