Sat., Sept. 3, 2011, 11:04 a.m.
Redistricters adjourn until tomorrow afternoon, report progress on North Idaho
Returning from an hour break, Idaho redistricting commissioners reported significant progress on new legislative district lines for North Idaho; they've now adjourned until tomorrow at 4 p.m. "Commissioner Kane and I had a very productive meeting, we're getting some consensus, and we have our staffers just doing a few tweaks," reported Commissioner Lorna Finman. "I think we need some more time, but there's hope that we could actually converge on that today." Commissioner Julie Kane nodded, and said, "I concur."

Commissioner Allen Andersen said with a smile, "Commissioner Frasure and I discussed at length southeastern Idaho - he is trying to browbeat me into submission. So far he hasn't succeeded." Andersen said he's gathering some more information. "We would need some time to put those numbers together and see if there's any settlement coming out of that."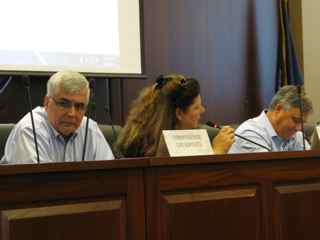 He then said, "The other area would have been Commissioner Moses and Commissioner Esposito, and he's looking pretty solemn down there," looking toward Esposito. "As I understand, they did not meet. Do you have any statement?" Esposito said, "That's correct, Mr. Chairman." He added, "I think in all fairness to the other members of the commission, I have been on the record publicly willing to work through Ada County, on basically two conditions, that North Idaho gets resolved and eastern Idaho gets resolved, and that we can also have a vote and a commitment to a vote on getting the congressional plan done as we came very close to getting done in mid-July. So I stand ready, once Commissioners Kane and Finman get their work done and Commissioners Andersen and Frasure get their work done, to get this wrapped up and completed."

Frasure said though he and Andersen haven't agreed about eastern Idaho, they've made progress. "I think you started off at Pluto and I was on Mercury, and I think ... now you're on Mars and I was on Venus. So we're almost back to earth."

Kane said, "I was going to say something about gender, but I won't." She and Finman both said they'll continue working on North Idaho issues today. Finman, as she left, said, "We're going to make it."
---
---