Fri., Jan. 20, 2012, 10:06 a.m.
Hearing wraps up on anti-Occupy bill; will start at 8:45 a.m. Monday
The House State Affairs Committee has wrapped up for the day after more than an hour of testimony; there were also quite a few called to testify who said they'll speak Monday instead. Those testifying covered a range of ages and occupations, from a 19-year-old college student to grandparents and retirees.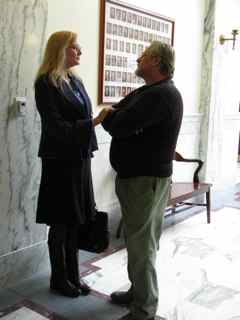 Among the last to testify: Fran Lawrence, a U.S. Marine Corps veteran, wife of a disabled Vietnam veteran and mother of four, told the committee, "I have the brave people at Occupy Boise who are holding vigil for me when I cannot be there. Respect what our forefathers have done for all of us ... Allow Occupy Boise to maintain its indefinite vigil ... Instead of diminishing our 1st Amendment rights our legislators here in Boise should be standing up for the people, rather than trying to dictate or legislate our rights away. Please help us maintain the flames of freedom."

Harold Stiles told of his home mortgage that's underwater: "I call it my submarine."

One man left the room when his cell phone went off, cock-a-doodling repeatedly with a rooster call. "What can I say?" said committee Chairman Tom Loertscher with a smile, as someone in the audience muttered, "Only in Idaho," and another man in the audience called out, "Do not lose your sense of humor." Loertscher responded, "We'll try not to do that."

Rep. Lynn Luker, R-Boise, moved to hold HB 380, the first version of the anti-Occupy bill, in committee - killing it - "since we have a new bill now." His motion passed unanimously.

Loertscher announced that Monday morning's meeting will start at 8:45 a.m. "For your information, the bill that was introduced here earlier today has become HB 404, so that will let you know what will be on our agenda for Monday," he said.
---
---