THURSDAY, JULY 12, 2012, 11:54 A.M.
Groundbreaking marks start of 18-story building to rise from infamous 'Boise hole' downtown
Ruth's Chris Steakhouse, the Grill at 8th and Main, offices of the Holland & Hart law firm, 1st American Title, the Idaho Fitness Factory and more will join the Idaho headquarters of Zion's Bank in a new 18-story office tower to rise at the corner of 8th and Main streets in downtown Boise, from the infamous "Boise hole" that's stood vacant for a quarter-century. Ground was broken for the office tower today, and Tommy Ahlquist, chief operating officer of the Gardner Co., the developer, announced the tenants.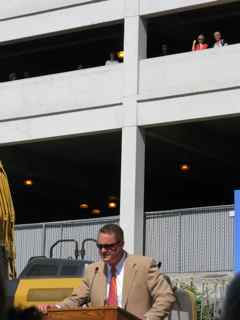 Also listed: CTA Architects, the Idaho Technology Council and Beck Advisory Group. Ahlquist addressed Boise Mayor Dave Bieter, who attended and spoke at the groundbreaking. "Mayor Bieter ... thank you for believing in us and not laughing us out of your office the first time I came in and said, 'I think we're going to fill this hole,' " Ahlquist said.

John May, board chairman of the Capital City Development Corp., Boise's urban renewal agency, said, "As the last kind of major undeveloped parcel in the central business district, I don't have to tell you that this parcel has been a ... challenge for many, many years." It's been vacant since the historic Eastman Building burned to the ground in 1987 in a spectacular overnight fire, just as the long-vacant office building was on the verge of a major renovation; squatters who set a campfire inside were blamed for the mid-winter blaze. Numerous proposals for new buildings there since then have all failed, including one that left tall rebar standing in the hole for years.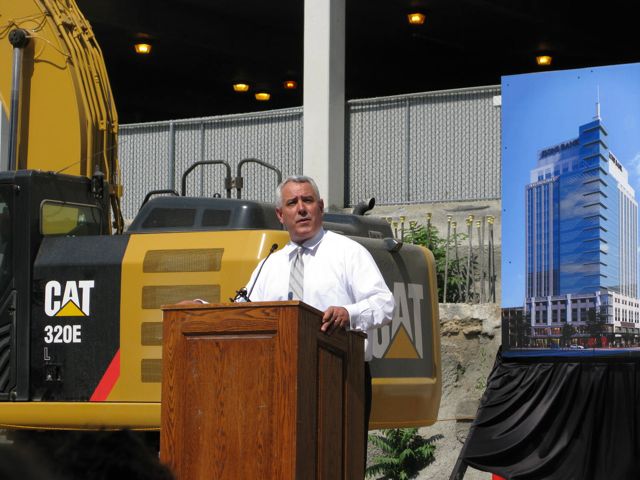 Today, more than 300 people gathered for the groundbreaking ceremony, at which Christian Gardner, CEO and president of the Gardner Co., said, "I am just honored and excited to be here in this hole." A representative of the Native American community was brought in to offer a blessing - and ease whatever curses might be afflicting the site. "We want good things to happen here," said Mike Cutler, a BSU professor, who also drummed and sang a traditional song. "We want good things to happen to all the people ... making this a useful and helpful place."

The new $76 million building is scheduled for completion in January of 2014. It'll have two levels of retail and restaurant space, including a Zions Bank branch, at ground level, with a basement level below, and three levels of parking above connected to the adjacent Eastman Parking Garage behind. Above that will be 12 levels of Class A office space, including two and a half floors for Holland & Hart. Every floor will have showers and the basement level will offer storage to accommodate bicycle commuters; ESI of Meridian will be the lead contractor. Gardner said, "We are excited to be forever changing the Boise skyline with this building." An elated Bieter said, "I would like to say to Gardner and Co. and to Zion's: Please start filling this hole!"

---
---