Mon., May 28, 2012, 10:24 a.m.
And they're off…
The final stage of the Exergy Tour has kicked off today; here, the crowd of professional women cyclists heads up Bogus Basin Road, two sharp turns - and at least one multi-rider crash - after the starting line in Hyde Park, where today's race both starts and finishes.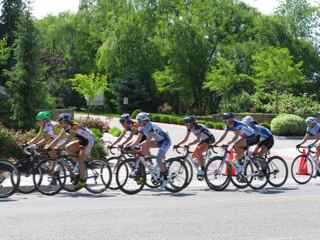 The racers will cover 46.7 miles today, climbing 3,700 feet on an up-and-down course that will take them out Cartright Road, around three laps in the Dry Creek/Seamans Gulch/Pierce Park area, and then back along Cartright to Bogus Basin to Harrison Boulevard, for the finish at 13th and Resseguie in the North End. The race is expected to finish around 1 p.m.; entertainment and family activities are planned until 2:30, including the awarding of the overall trophy.
---
---