Tue., Nov. 6, 2012, 8:55 p.m.
Idaho Dems celebrate, pool beckons…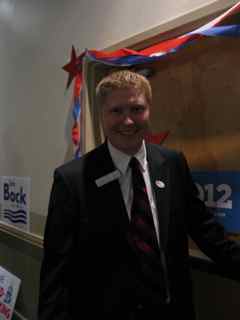 At the Idaho Democrats' election-night watch party, the festivities spill into several rooms, including the pool deck at the Boise Hotel & Conference Center, formerly the Holiday Inn. The Dems are celebrating the re-election of President Barack Obama, who's defeated GOP challenger Mitt Romney.
A jubilant Branden Durst, who held the lead in early returns in his own challenge to Sen. Mitch Toryanski, R-Boise, said, "I've already committed that if my CD1 precincts come out over 40 percent in my favor, I will jump in the pool in my full suit."

He sheepishly admitted, however, that "they're awful for me." Durst is trying again to beat Toryanski, who narrowly beat him two years ago in Boise's District 18, which has some precincts in the 1st Congressional District and some in the 2nd CD.
---
---