Tue., Nov. 6, 2012, 8:11 p.m.
Party faithful gather, await results…
It's early yet, but folks are gathering at both the Idaho Democratic Party election-night watch party at the Boise Hotel and Conference Center, and at the Riverside Hotel, where the Idaho Republican Party is holding its election-night watch party. Gov. Butch Otter welcomed the shoulder-to-shoulder crowd at the Riverside, saying, "What a great crowd - enthusiasm, lot of energy. I wish I was running for something." Amid laughter, turning to his wife, Lori, he said, "Oh, we are, that's right - the first lady just reminded me."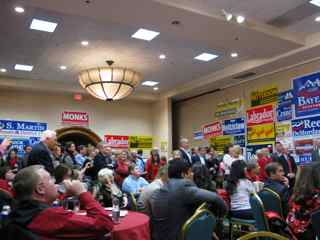 Otter isn't up for election this year, but has been saying he'll seek a third term as governor in 2014. Otter told the GOP faithful, "The Republican Party will continue to be strong. We don't know all the results yet tonight, but I can tell you one thing, there isn't a party that tried harder, there isn't a party that worked harder, and there isn't a party that's gonna win bigger than we are tonight here in Idaho."

The GOP crowd is shoulder-to-shoulder, and the room's plenty loud; on top of all the conversation, young musicians from the Idaho Arts Charter School's electric orchestra are entertaining with an upbeat selection for electric violin, viola, cello and more.
---
---