TUESDAY, NOV. 6, 2012, 9:12 P.M.
School reform opponents: 'An affirmation'
Opponents of the "Students Come First" school reform measures are celebrating at their own election-night party at the Red Lion Downtowner hotel. The early numbers show a win for the opponents.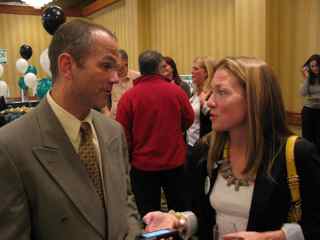 "If we pull this off, it's going to be an affirmation of what we've believed since the 2011 session," said Mike Lanza, chairman of the "Vote No on Props 1,2,3" campaign, shown here discussing the latest results with Boise City Councilwoman Lauren McLean. "The public didn't buy any of the case that Superintendent Luna made for these laws," Lanza said, "and didn't trust that they were best for our schools."

A Boise father who hadn't been active in politics before the referendum campaign, Lanza said, "We'll be ready to bring everybody together and have a real and honest conversation about what our schools need and how we can make them better. It has to be based on hard data and things that really work, and not just ideology and things that sound good to some people."
---
---