Mon., Nov. 26, 2012, 10:19 a.m.
So many deer being hit on Idaho roads that Fish & Game is concerned over hunting impact
More than 5,000 deer, elk and moose were killed by cars on Idaho's roads last year, a number so high that Fish and Game officials are worried about impacts on hunting and are ramping up monitoring and wildlife crossing programs. "Right now, we think we're losing the same number of deer that we harvest in our biggest deer unit every year, so that is significant," said Gregg Servheen, wildlife program coordinator for Idaho's Fish and Game Department. "As we try to maintain deer harvest and sportsman interest and opportunity, that becomes key."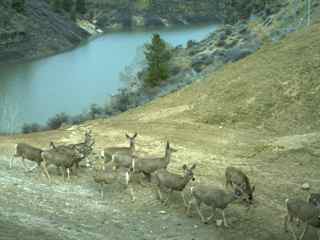 And it's why a new section of U.S. Highway 95 being built north of Coeur d'Alene features a $1 million wildlife underpass, shown above, designed to allow deer, elk, moose, bears and other critters to cross freely – without endangering either themselves or the motorists whizzing by on the state's main north-south route. Extensive fencing will route the animals to the safe crossing.
The underpass, just south of Silverwood, will be the state's fifth when the highway project is completed next fall. Another that was built on Highway 21 east of Boise in 2011 has seen large herds of deer crossing safely as car-deer collisions at the site plummeted; the ITD photo at left shows deer using the Highway 21 underpass. You can read my full story here at spokesman.com.
---
---