Wed., April 24, 2013, 1:12 p.m.
View from 17th story proves it: The infamous 'Boise Hole' finally has been filled
It was an icy late-January night in 1987 when my phone rang after 2 a.m.; it was my editor. The long-vacant historic sandstone building downtown that was poised for a big redevelopment project – and about which I'd been writing, as a city hall reporter covering downtown redevelopment - had been "torched," he said. I needed to get down there.
It was an eerie scene. The Eastman Building was leveled in the spectacular blaze; the distinctive six-story structure on one of downtown Boise's most prominent corners would not find new life after all. Squatters who set a campfire inside the long-vacant building were blamed for the blaze. What followed seemed typical of the redevelopment wars that had led to that point; the site of the Eastman Building stood vacant for more than two decades, as first one, then another grandiose plan to build there was proposed and abandoned. For many years, all that was left was a deep hole marked by abandoned spines of rebar.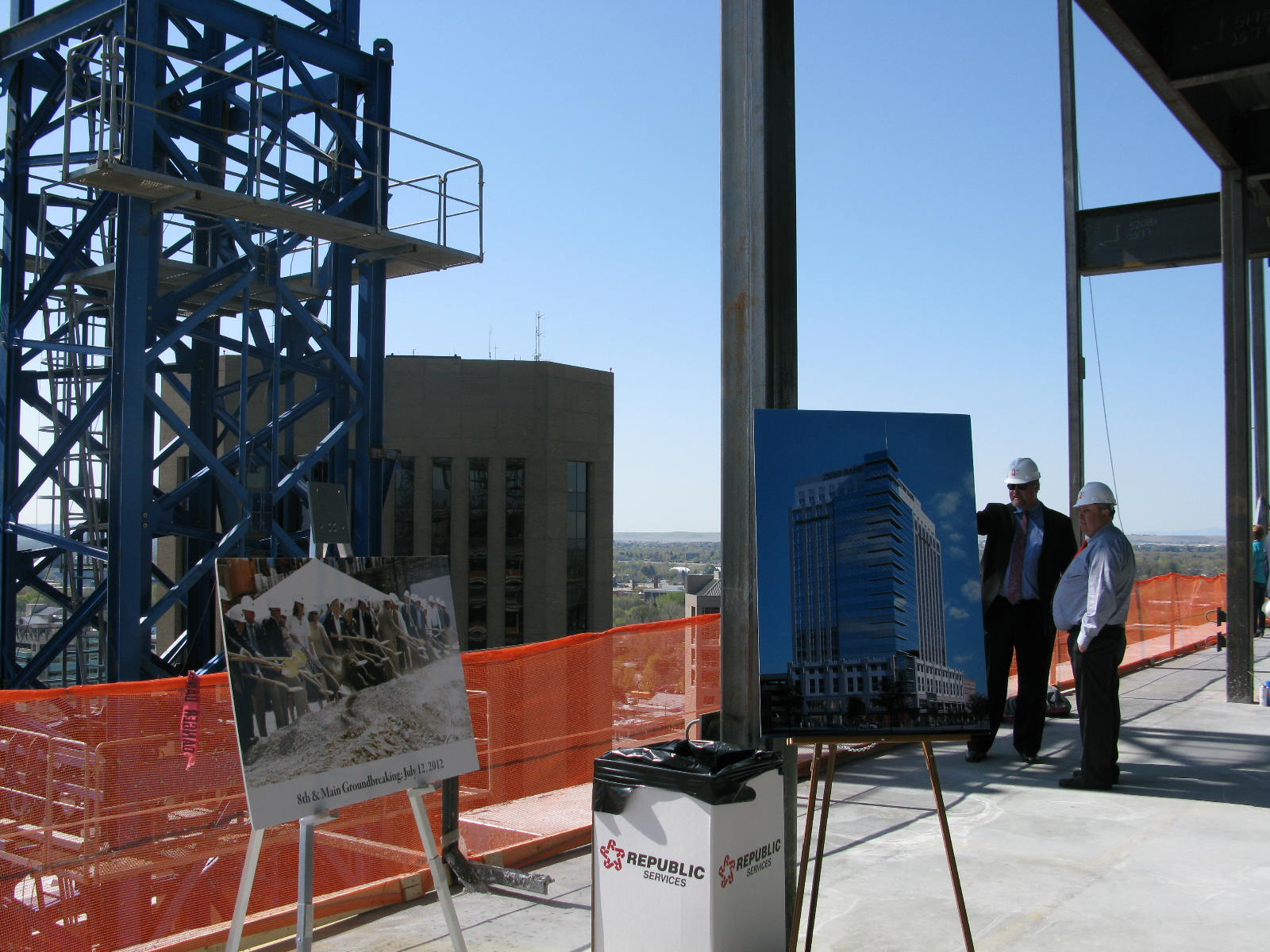 The past year marked a dramatic turnaround for the site that long was known as the "Boise Hole." First, in September of 2011, Zions Bank announced it was planning its new Idaho headquarters in an office tower that would be built at the site. Last July, more than 300 people gathered in the hole for a groundbreaking – complete with a blessing from a representative of the Native American community to ease whatever curses might be plaguing the site. Now, today, less than a year later, the new 8th and Main Tower has risen to its full 18 stories - making it, just barely, the tallest building in Idaho. (The nearby U.S. Bank building is 19 stories, but the parapet of the new tower rises a few feet higher.)
Today, in a "topping off" ceremony, a signed steel girder was ceremonially placed atop the new tower; it'll be visible in the future from the tower's penthouse. Again, several hundred people gathered – this time high above the hole where they gathered back in July, enjoying the 17th-story, 360-degree view above the state Capitol and the rest of downtown. Kem Gardner, chairman of the Gardner Company, developer of the tower, said, "We all knew that that hole in Boise was holding back the development of the community and that it needed to be filled."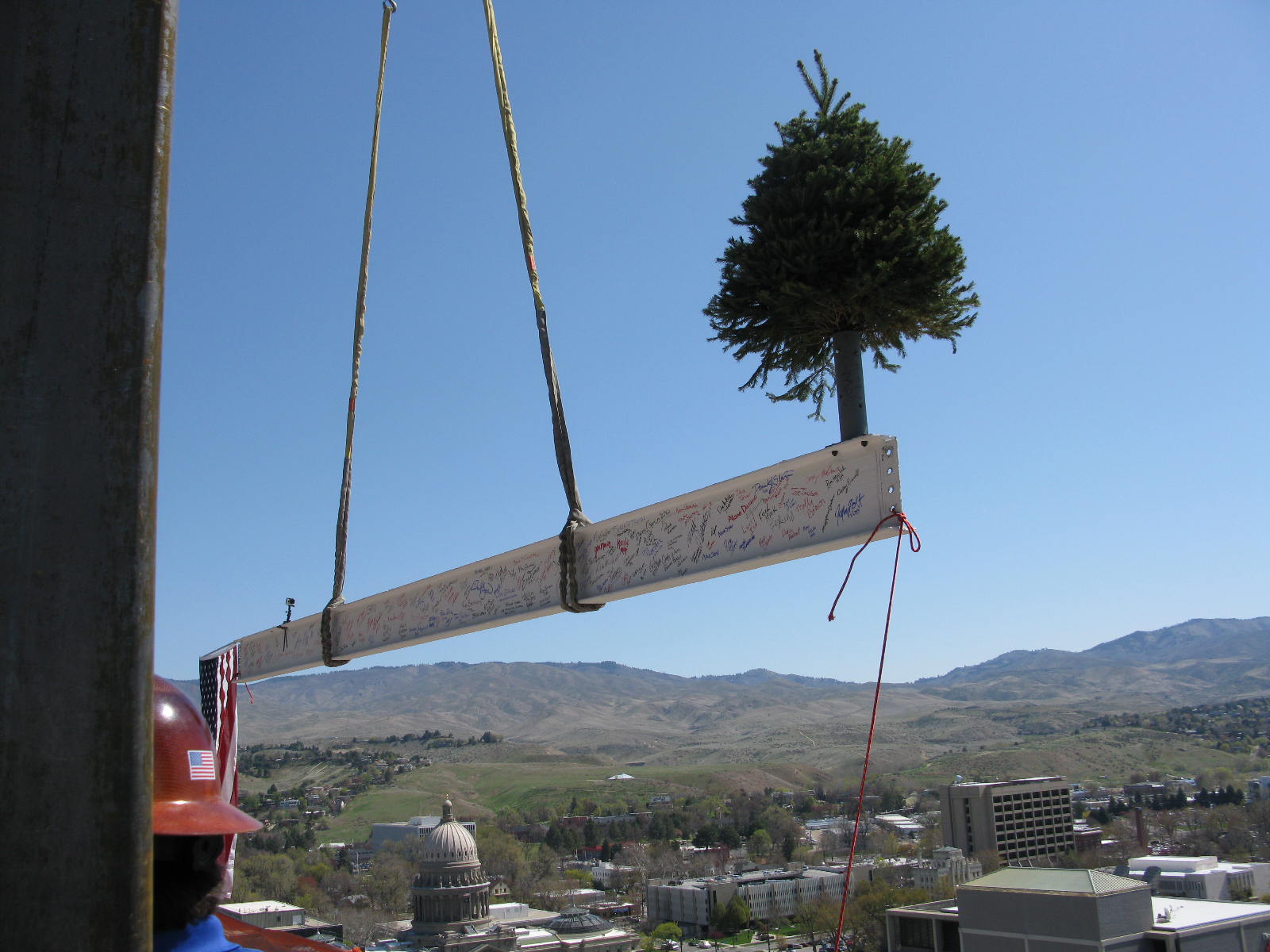 The new tower is scheduled to open in January of 2014, and so far it's not only on schedule, on budget and free of serious mishaps, it's already 81 percent leased, with all of its retail space now taken. "I blew it – I really should've done 25 floors on this building," Gardner told the crowd. "I was scared to death of 18. … Now that I see where we are on this, I say let's take this off and build another couple floors!"
His son Christian, president and CEO of the firm, said, "The feedback we always had is, 'Boise is not a pre-leasing market – nobody's going to sign until the last nail is in the building.'" The project proved that wrong, he said. "It just shows you that Boise is not skeptical – that it is growing, and it is vibrant, and there is an active downtown." Michael Morris, executive vice president of real estate for Zions Bank, noted that the project was conceived and born in the midst of the worst recession since the Depression. "The recovery is well under way, as evidenced by the leasing and the development of this great project," he said.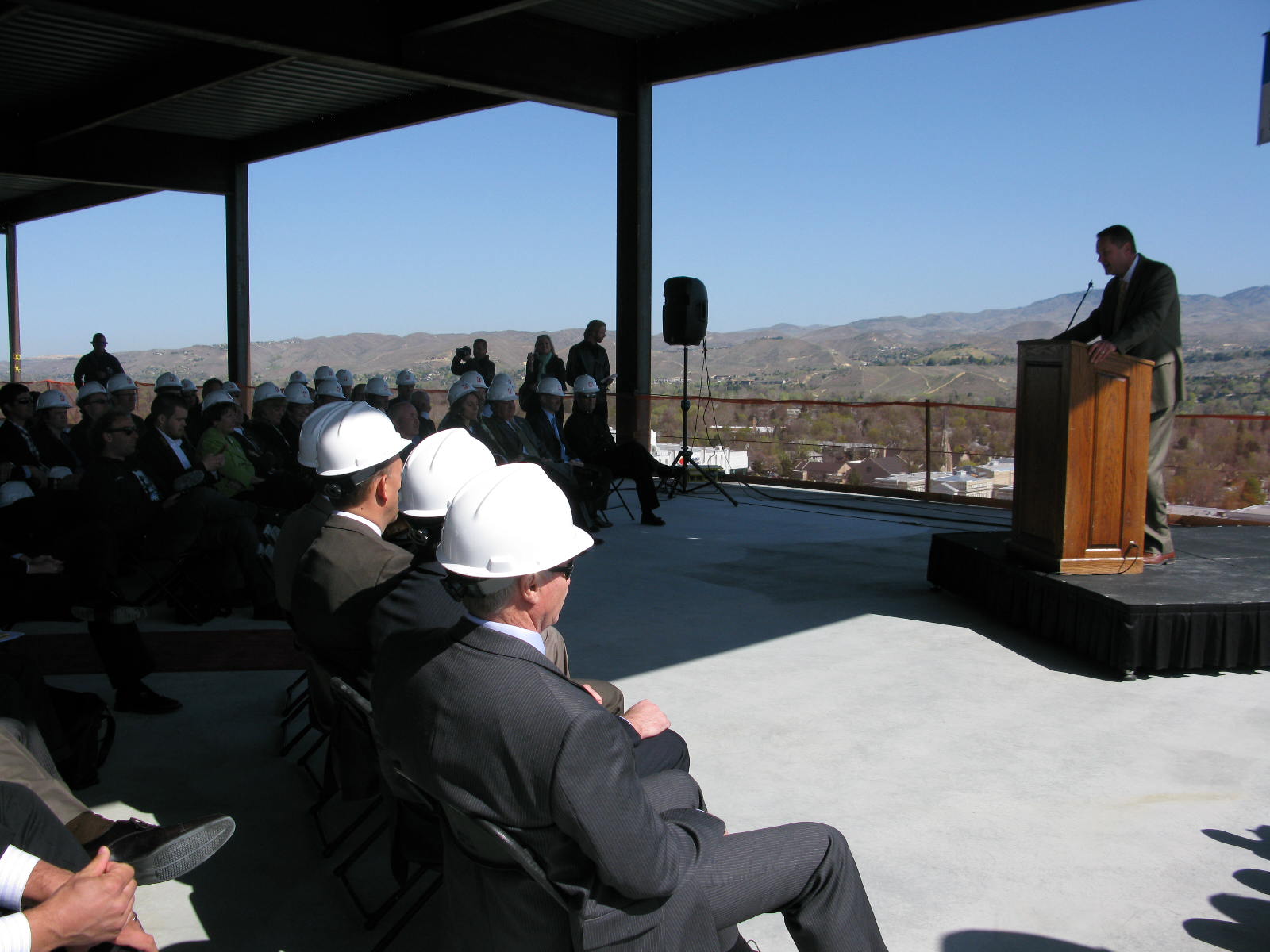 Zions Bank will occupy all or portions of five floors in the new tower. Holland & Hart LLP law firm will take up much of the 15th through 17th floors. A new Ruth's Chris Steak House will be on the first floor; other tenants include restaurants, a fitness facility, lawyers, consultants, architects, engineers, financiers and the Gardner Company, which will have offices on the 9thfloor. The tower also will include three levels of parking; its total cost is estimated at $76 million and its square footage at 391,930.
Said Boise Mayor Dave Bieter, "It's such a pleasure for all of us to be here. … Since this project began, we have been a city on the rise." He added that city officials long had to answer the question of "what we're going to do about the hole in the ground – we'll never have to answer that question again. The hole is gone forever."
---
---