Fri., July 12, 2013, 10:22 a.m.
New film will chronicle how Idaho's 'Bluebird Man' helped recover the state bird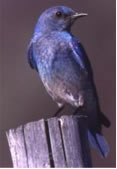 Idaho's "Bluebird Man," Al Larson, is now 91 years old, and he's the topic of a new documentary about how he helped recover the population of Idaho's state bird, the Mountain Bluebird. Larson, a World War II vet who grew up in the Owyhee mountains, saw his first Mountain Bluebird in 1936 while riding fence on a ridge near Jordan Valley; in 1978, while looking for a hobby after retiring from his sawmill job, Larson read a National Geographic article about the decline of bluebird populations across North America. That year, he set up 25 nest boxes and began monitoring the birds. Eventually he had 350 nest boxes in five southwest Idaho counties, and over the years he has banded more than 27,000 bluebird nestlings.
"Al has been joined by many other citizen scientists across the continent who have set up bluebird trails in an attempt to boost bluebird populations by providing additional nesting habitat," says Matthew Podolsky, producer of "Bluebird Man," the film, who is with Boise-based non-profit production company Wild Lens. "These efforts have been hugely successful, resulting in the dramatic recovery of this enigmatic species."
The half-hour movie began filming in April and will finish production at the end of the year; Idaho Public Television plans to air it when it's completed. Now, Wild Lens is in the midst of a Kickstarter campaign to raise the final $15,000 needed for production and distribution costs; it's raised nearly half that amount already, and is offering those who contribute DVDs, original artwork, a vote on the movie poster design, birding trips and more. The Golden Eagle Audubon Society and the North American Bluebird Society also are partners in the film; there's more info here.
---
---