Thu., July 18, 2013, 4:19 p.m.
Farris says he'll run again in '14, either for Congress or another office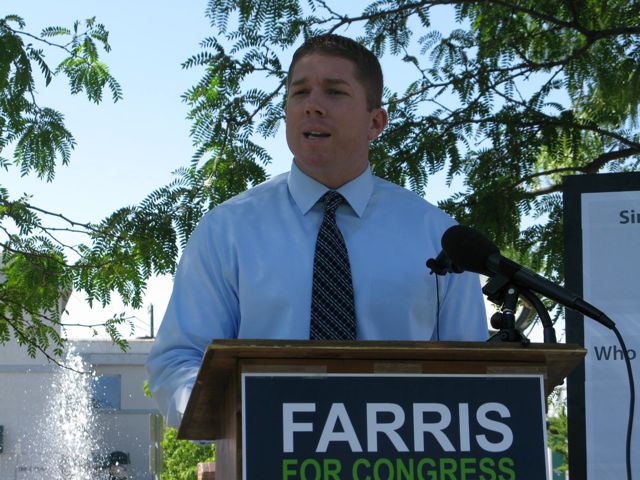 Jimmy Farris, the former NFL football player and Idaho native who took 30.8 percent of the vote against 1st District Rep. Raul Labrador last year, says he hasn't decided yet whether he'll challenge the GOP congressman again next year. But Farris, a Democrat, said he has decided one thing: He will run for office. "I will be running in 2014," Farris said today. "I'm just not positive for what office or what seat."
Farris filed a termination with the Federal Election Commission of his campaign finances from the last election, closing out the books, but said he made that move largely because his campaign treasurer, a CPA, was retiring from her practice. If he decides to run for Congress again, he noted, he can refile. This photo, from August of 2012, shows him campaigning in Meridian.
For now, Farris is busy with an upcoming annual family reunion and several business ventures, including one a former teammate is launching to design a safer football helmet, and another he's working on to develop a type of custom insole. He also became fascinated by the recent George Zimmerman trial in Florida, frequently tweeting on developments there.
"I came into it, honestly, with a bias, kind of a preconceived idea that Zimmerman was just what they were saying he was, this over-zealous, racist wanna-be cop that tracked down this innocent kid and just shot him in cold blood, and it wasn't like that," Farris said. "NBC had edited one of the 911 tapes. … It was terrible, man. So not that I think George Zimmerman was innocent, he did kill the kid, but the way the law reads is the way it reads. In my opinion, if you just wanted to base it off of the instructions to the jury, there was no way they could convict him." He added, "I just got really, really caught up in that trial."
As for politics, he said, "I'm not actively out raising money or campaigning, but I've been meeting with a lot of people, having a lot of lunch and coffee meetings and kind of laying the groundwork for some things." He added, "I'm kind of considering all the options now. … My desire to be in public service in Idaho and do what I can to make a difference in Idaho is as strong as it's ever been."
---
---