Wed., Sept. 18, 2013, 9:35 a.m.
Lt. Gov. Little launches re-election bid, quelling talk of run for governor…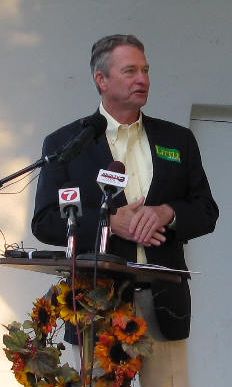 Idaho Lt. Gov. Brad Little launched his re-election campaign this morning, quelling – at least for now – speculation that Gov. Butch Otter would step aside and allow his hand-picked running mate a shot at the top job. "I'm here to support Brad," Otter declared as he joined more than 100 of Little's supporters at City Park in Emmett, Little's home town, for a combination pancake breakfast and campaign kickoff. Asked if he thinks Little is a future governor, Otter shot back, "He should be."
But the 71-year-old GOP governor said he's set on seeking a third term. "I think we've been a great team," he said. "I think we'll continue to be a great team for the next four years." Otter said if he's re-elected, "I have no reason to believe I will not complete four years." He added, "I'm healthy as a horse."
Little, 59, a prominent rancher and former four-term state senator, was appointed lieutenant governor by Otter in 2009, and elected to a full term in the part-time post in 2010. Otter's given him a more prominent role than past lieutenant governors – including Otter himself, who was Idaho's lieutenant governor for 14 years; you can read my full story here at spokesman.com.
---
---