Catching up on the news...
Idaho had plenty of news last week while I was gone, topped by the long-sought creation of three new wilderness areas protecting the Boulder-White Clouds mountains, a precedent-setting federal court ruling that the 2014 Idaho law criminalizing surreptitious videotaping of ag operations was unconstitutional and violated the First Amendment, and a bunch more. Here's a roundup:
WILDERNESS: On Wednesday, the Senate unanimously passed H.R. 1138, the Sawtooth National Recreation Area and Jerry Peak Wilderness Additions Act, and on Friday, President Barack Obama signed it into law, with an array of Idahoans watching, including 2nd District Congressman Mike Simpson, author of the bill. Idaho Sen. Jim Risch, the measure's Senate sponsor, said in a statement, "Through a collaborative effort, Congressman Simpson crafted this legislation that is truly an Idaho bill. Regardless of where people are on this issue there isn't anyone who would disagree that the heart of this area is one of the most remarkable places in the world."
Idaho Statesman reporter Rocky Barker, who has followed the debate over protection of the Boulder-White Clouds for decades, details how it all happened in a story here from Saturday's Idaho Statesman. The bill didn't get a single "no" vote in either house of Congress.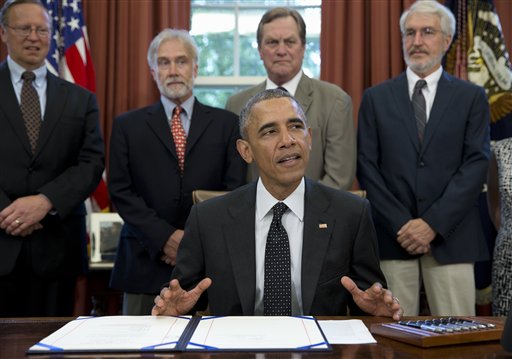 "This is a remarkable area," Obama said as he signed the bill into law. "Something that folks have been working on for quite some time is going to be reality." The White House press pool report for the day was headed, "Obama signs wilderness site bill, makes no news. No mention of Iran deal or Schumer's opposition." It reported that those present for the signing ceremony included U.S. Secretary of the Interior Sally Jewell; Simpson, Rick Johnson, executive director of the Idaho Conservation League; Craig Gehrke, Idaho regional director for the Wilderness Society; Marcia Argust, director of America's Wilderness project for the Pew Charitable Trusts; Stanley City Council President Steve Botti; Sawtooth Society Executive Director Gary O'Malley; and Robert Bonnie, undersecretary for natural resources and environment for the Department of Agriculture; but not Risch.
The measure is a compromise backed by an array of groups, from conservationists to off-roaders to ranchers. It creates three new designated wilderness areas; releases four wilderness study areas back to multiple use; excludes an array of motorized trails in the area from the wilderness; offers options to ranchers in the area; includes $1.5 million for trail improvements in the Sawtooth National Recreation Area; and makes $5 million in grants and land transfers to rural communities in the area for public purposes including a community center, a county health clinic and EMT support.
AG-GAG LAW UNCONSTITUTIONAL: The law that Idaho lawmakers passed in 2014 after an animal rights group filmed cows being abused at a southern Idaho dairy that made it a crime to surreptitiously videotape agricultural operations, along with other steps including misrepresenting oneself to get a job at an ag operation in order to expose practices there, was ruled unconstitutional by a federal court in a stinging decision that said the law clearly ran afoul of the U.S. Constitution's guarantees of free speech and equal protection. "The remedy for misleading speech, or speech we do not like, is more speech, not enforced silence," wrote U.S. District Judge B. Lynn Winmill. "Although the State may not agree with the message certain groups seek to convey about Idaho's agricultural production facilities, such as releasing secretly-recorded videos of animal abuse to the Internet and calling for boycotts, it cannot deny such groups equal protection of the laws in their exercise of their right to free speech." Because the law is unconstitutional, the judge wrote, "It cannot stand."
Winmill's full decision is online here; the state is considering whether or not to appeal.
STATE CONTRACTS: A legislative interim committee held its first hearing on how to reform Idaho's state contracting system, after seeing a string of scandals plague some of Idaho's most expensive contracts. The lawmakers heard that while Idaho has a dedicated purchasing division, state agencies also have authority to draft and approve contracts. This has created a decentralized system, where agencies have their own monitoring policies and unequal resources to enforce contract obligations. Legislative auditors estimated Idaho spent roughly $1.5 billion last year to issue more than 41,400 contracts involving at least six different types of state entities. AP reporter Kimberlee Kruesi has a full report here.
GUN PROTEST: Nearly 100 people, led by state Rep. Heather Scott, R-Blanchard, protested outside a U.S. Navy veteran's home in North Idaho, saying federal officials led by the Veterans Administration were going to confiscate the man's guns; the VA said it doesn't do that. "We don't send officers to confiscate weapons. We are about providing health care to veterans," said spokesman Bret Bowers. However, a veteran who is declared incompetent, due to dementia or other health conditions, could be barred from purchasing guns. Washington state Rep. Matt Shea of Spokane Valley described the event as a "defiance against tyranny." There's a full report here at spokesman.com.
SCHOOLS SUPT QUALIFICATONS: State Superintendent of Schools Sherri Ybarra is working on legislation to increase the qualifications to serve in her current post, adding a requirement to hold a valid Idaho administrator's certificate and graduate from an accredited college or university, as determined by the State Board of Education; and a requirement to be "actively engaged in educational work in the state public schools or in the state educational institutions." She would meet those requirements. Currently, the state superintendent must simply be at least 25, hold a bachelor's degree, and have lived in Idaho for two years. Idaho EdNews reporter Clark Corbin has a full report here.
Until the early 1990s, an educational specialist degree was required for the position, as were at least three years of teaching experience in Idaho. Lawmakers removed those requirements when two lawmakers who lacked the degree and experience were considering running for the post; that move later enabled previous state Superintendent Tom Luna to become the first non-educator to head Idaho's state school system.
NEW STEM DIRECTOR: Gov. Butch Otter appointed Angela Hemingway as executive director of the state's new Idaho STEM Action Center. Currently the director of Assessment and Accountability for Idaho's State Department of Education, she's a former classroom teacher in the Boise and Kuna school districts, where she taught accelerated and advanced placement biology, advanced chemistry and advanced placement statistics/research and won numerous awards. She holds a bachelor's degree in biology and chemistry with a minor in economics and a master's degree in biology with emphasis in microbiology, both from BSU.
EMPLOYEES AND CONTRACTORS: The Idaho Department of Labor and the U.S. Department of Labor Wage and Hour Division signed an agreement Friday aimed at protecting Idaho workers from being misclassified as independent contractors, saying some businesses try that to save money, but it can end up costing the businesses much more if they don't follow the rules. "That's why we're here," said Ken Edmunds, Idaho Department of Labor director. "We can help clarify when an employee is an employee or an independent contractor. If an Idaho business is considering the option of using independent contractors, the business should call us first so we can walk through the rules and make sure the workers and independent contractors are properly classified." As many as 30 percent of employees nationwide are misclassified as independent contractors; there's more info here.
IDAHO GAS PRICES: As oil prices tumbled, Idaho's average gas prices fell to $3 a gallon last week, but that was still seventh-highest in the country and 36 cents higher than the $2.64 per gallon U.S. average. Western states were the least affected by the price decline, the AAA reported, with California ($3.72), Nevada, Washington and Oregon posting higher average prices than Idaho. There's more info here.
SUPREMACIST ROBOCALLS: An out-of-state white supremacist group targeted Idahoans with a barrage of robocalls supporting its whites-only, anti-diversity agenda. American Freedom Party Chairman William Johnson, a corporate lawyer in Los Angeles, told Idaho Statesman reporter Bill Dentzer the group targeted Idahoans because of Boise Mayor Dave Bieter's comments about welcoming diversity and because of Muslim refugee resettlement and Hispanic immigration to the Gem State. The calls touted the party's presidential candidate, Bob Whittaker; hundreds contacted the group to object to the calls. Dentzer's full report is online here.
STATE TAX REVENUES: Idaho's state tax revenues for July came in $0.7 million below forecasts, putting them just 0.3 percent below the target. The Otter Administration's Division of Financial Management reported Friday that the numbers come as the state has revised upwards its general fund revenue forecast for 2016, from the $3.1276 billion forecast in January, to $3.1811 billion, a 4.1 percent increase over the previous fiscal year collections and $53.5 million above January's forecast. There's more info here in the DFM's monthly General Fund Revenue Report.
---
---