Thu., Feb. 6, 2014, 1:39 p.m.
A close-up look at a piece of Idaho history…
Senators and representatives got a close look at an Idaho historical artifact today: A large, ornate silver loving cup presented to the state in 1903 for Payette Valley farmers' "magnificent fruit exhibit" at the National Irrigation Congress that year, an exhibit that included 63 varieties of apples and 20 types of pears, among other items. "Artifacts like the loving cup enable us to interpret complex Idaho history," Idaho Historical Society Director Janet Gallimore told the Joint Finance-Appropriations Committee this morning, shortly before the cup was unveiled at the close of her budget presentation. The cup was then displayed in both the House and Senate chambers, giving members a chance for an up-close look.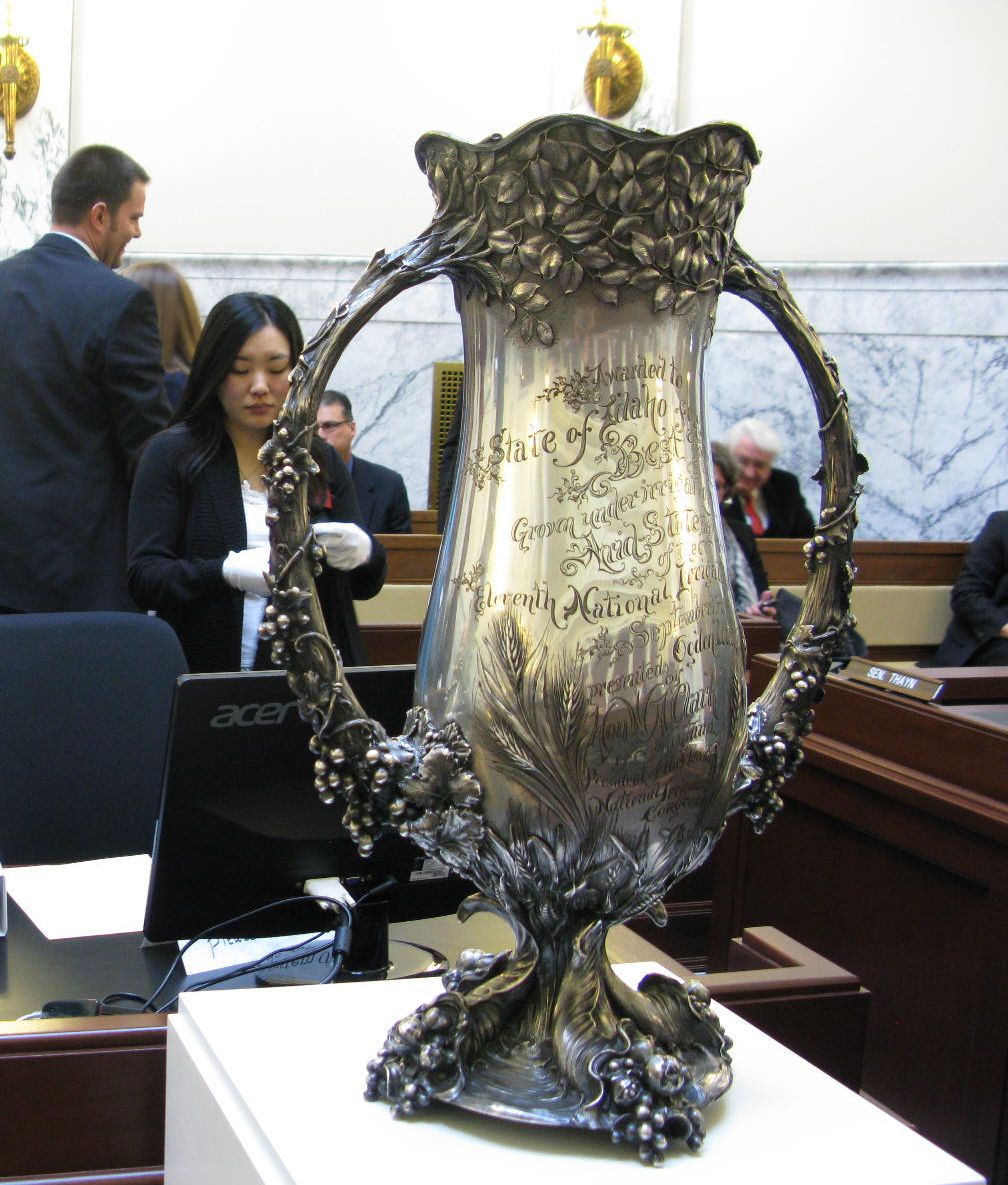 The cup is one of more than 250,000 historical artifacts that the society preserves. When the PBS program "Antiques Roadshow" came to Boise, Lt. Gov. Brad Little borrowed it to take down for appraisal, Gallimore said; an "entourage" of staffers came along to ensure the item's safety. The cup was valued at between $100,000 and $150,000, and little reported that the show's experts were "very impressed."
For next year, Gov. Butch Otter is recommending a 7.5 percent budget increase for the Historical Society, but much of that increase is for specific replacement items, including software and computer monitors; and a $50,000 boost in building and grounds maintenance funding for the society's 25 buildings in the state.
The biggest news for the Historical Society isn't in its budget, but in the state's Permanent Building Fund budget – where this year, $2.4 million was allocated for the first phase of a total re-do of the Idaho State Historical Museum, and where Otter is recommending $4.56 million second and final phase of the project. The Historical Society also is raising funds for a portion of the total project cost of $10 million; the Boise museum will close in June, and reopen in 2017.
The project includes both updating and expanding the museum building, which first opened in the late 1940s and had an addition built in 1980. Asbestos will be removed and systems modernized, and all the exhibits are being redone. Plans include a separate entrance area for school groups. "It's an exciting project for us," said state historian Keith Petersen. "It really is a big deal."
Historical Society staff are working on initial plans for the new exhibits; a request for proposals for a museum exhibit design firm to help with that has drawn 60 submissions from firms across the country. Gallimore said, "We are very grateful for the opportunity to present Idaho's story in a compelling way." Also planned is "additional technology so that people from throughout Idaho will be able to experience their historical museum."
---
---