Bedke: 'I think we're seeing democracy at work'
With hundreds of cheerful "Add the Words" protesters filling all four levels of the state Capitol today, plus a crowd of 4-H students visiting the Capitol, the annual Idaho Cattle Association lunch for legislators on the fourth floor, and a school-choice rally with Gov. Butch Otter on the Capitol steps, there are tons of people here on this President's Day. "I think that we're seeing democracy at work," said House Speaker Scott Bedke, R-Oakley.
Among the protesters' hand-lettered signs: "Equality for all Idahoans," "Religious bigotries deny liberties, ally against H427 & 426," "81% of Idahoans believe it should be illegal to discriminate," "Idaho is too great for hate" and "Discrimination is unpatriotic."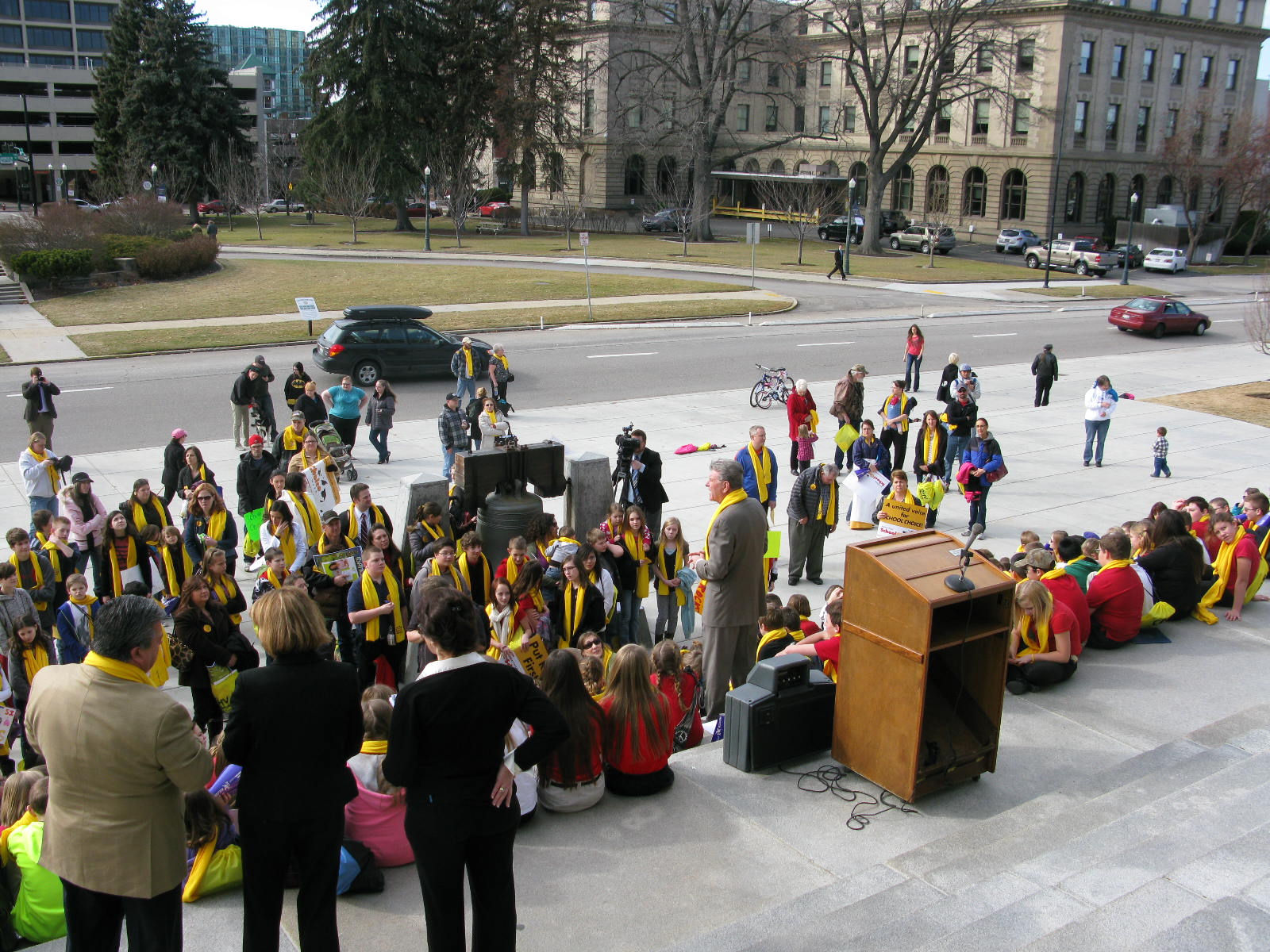 The governor answered questions about government from charter school students on the steps. "Sometimes it's messy, I agree," he said. "Sometimes it's frustrating." Otter told the kids to celebrate the freedom our form of government provides. "The best way to do that is to participate in it," he said. "Know what your government is – know what a constitutional republic means." He said he thought the kids' questions were "right on," and said, "They're interested in what goes on in this building."
Asked about the "Add the Words" protest, Otter said, "That's what this constitutional republic is all about. That's what the first 10 amendments are all about." He added, "I don't perceive Idaho as anti-gay. I perceive it as pro-marriage in the traditional sense."
As lawmakers exited their chambers, the protesters placed their hands over their mouths, to symbolize that they're not being heard. The bill to amend Idaho's human rights act to ban discrimination based on sexual orientation or gender identity has been proposed each of the past eight years, but has never gotten a full committee hearing.
HB 427, the controversial religious freedom expansion bill from Rep. Lynn Luker, R-Boise, remains on the amending order in the House, but wasn't addressed today. Bedke said, "The bill is not ready to advance at this point."
---
---