Mon., Jan. 20, 2014, 12:24 p.m.
Alternative state budget would give schools, state workers bigger boost, still balance…
Mike Ferguson was Idaho's chief state economist for 25 years. Jerry Evans, a Republican, was Idaho's schools chief for 16 years; Marilyn Howard, a Democrat, served in that post for eight years. Today, all three stood together behind an alternative state budget that Ferguson has drafted – one that uses the same revenue estimate Gov. Butch Otter and lawmakers have adopted, but calls for an 8.3 percent increase in funding for public schools next year, instead of Otter's proposed 2.9 percent. The three were joined by two members of Otter's school improvement task force, teacher Cindy Wilson and parent Mike Lanza.
The spending plan also would give state employees average raises of 4 percent, including to teachers; restore $35 million cut from Medicaid services to the disabled in 2012; and keep more than $200 million in reserves, 10 percent of next year's anticipated spending. It includes accepting federal Medicaid expansion funds to save the state $42.4 million next year, but even without that step, would result in a $13.7 million surplus.
Evans said he listened to Otter's State of the State message, and, "I was astounded at the higher priority for rainy-day funds and for tax relief, while all along proclaiming that education is our highest priority." The proposed alternate budget would leave out an additional $71.7 million Otter wants to deposit into state savings accounts, along with $30 million the governor designated for possible tax relief, such as income tax cuts for corporations and top earners or an increase in the property tax exemption for business equipment.
Howard said everywhere she goes in the state, "People come up to me to tell me how unhappy they are with the way that state government is treating our schools." She said, "Harm has been done." Even with the boosts outlined under Ferguson's plan, Howard noted, Idaho's public schools still would get less in funding from the state next year than they got in 2009.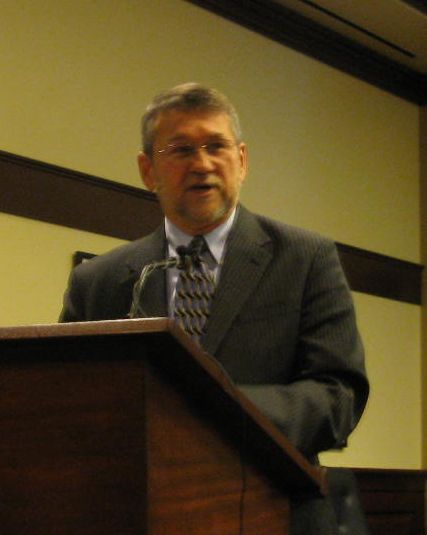 Ferguson said he analyzed the governor's budget and prepared an alternative "that reflects a different set of priorities." The only changes he made were to eliminate the tax-cut and extra rainy-day fund items, while adding back $34.4 million to the public schools budget that was in it this year but considered one-time, and therefore was removed from Otter's budget for next year; adding back $35 million to restore the 2012 Medicaid service cuts, which he said were "taken primarily from low-income persons with serious disabilities;" and adding in the 4 percent for raises, at a cost of $58.3 million. With only the money for raises added back in to the higher ed budget, it would rise from the 6.2 percent increase Otter's recommended for next year to a 9.4 percent increase.
Lanza said, "This alternative state budget from respected economist Mike Ferguson demonstrates that it is possible to take significant steps toward implementing the task force recommendations, bigger steps than have been proposed by Gov. Otter."
Evans said the percentage of Idaho's per-capita income that goes to education has been dropping for years. "That is in a state where per-capita income is also going down, which doubles the impact," he said. "It is time for the public to notice. … It seems to me that as we approach this year, our economy is beginning to improve. … It is time to begin to reverse what has been going on for so long."
Ferguson, who retired from the state in 2010, now heads the Idaho Center for Fiscal Policy, a non-profit funded by the Northwest Area Foundation whose mission is to provide fact-based information and analysis regarding the state's finances. "In the 1990s, when we collected more of the revenue we needed, our economy grew faster than almost all other states," Ferguson said. "Today, after more than a decade of reduced investments, that trend has reversed. Idaho is now the second poorest state in the nation with the highest percentage of minimum wage jobs, and we invest substantially less in education than all but one other state."
---
---