WEDNESDAY, MARCH 26, 2014, 5:07 P.M.
Downtown Boise's Peregrine falcon lays first egg of the season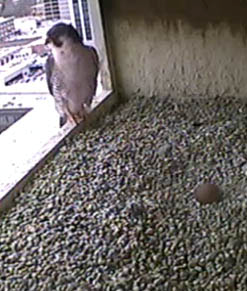 Downtown Boise's FalconCam caught a big development today: Downtown's Peregrine falcon pair has its first egg. This is the earliest date a first egg has appeared in the nest box high atop the One Capital Center building at 10th and Main streets since the webcam first was installed in 2009. It's almost two weeks earlier than last year's, which also was the earliest at the time. "Wild birds keep their own schedules," says the Peregrine Fund. Typically, a Peregrine falcon lays an egg roughly every other day until she has produced a "clutch" of three to five eggs.
Then, for about a month, both the male and female will help incubate the eggs until they hatch. Both parents then typically care for the checks after hatching, keeping them warm, bringing them food and feeding them for six to seven weeks before the chicks begin learning to fly and hunt their own prey. That process also unfolds under the parents' watchful eyes – and those of everyone in downtown Boise. The FalconCam, sponsored by the Peregrine Fund, the Idaho Department of Fish & Game and Fiberpipe Data Centers, went up in 2009, but peregrines have been using the nesting box on a 14th floor ledge of the office building since 2003.
The Peregrine falcon was removed from the endangered species list in 1999, after an extensive captive breeding and release program by the Boise-based Peregrine Fund helped restore its population numbers. Eight were released in downtown Boise in 1988 and 1989, where tall buildings mimic the cliffs the birds like for their nesting areas. There are now an estimated two dozen breeding pairs of the swift-flying Peregrines in Idaho. You can watch them on the Falconcam here, which features live, streaming video; right now, it takes up to a minute to load, and there's no audio, but it's coming.
---
---