Mon., May 5, 2014, 4:54 p.m.
First egg has hatched in downtown Peregrine falcon nest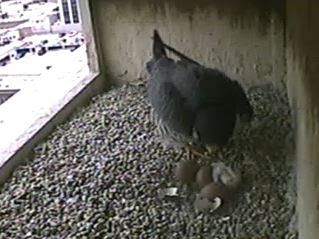 The first of the four eggs in the downtown Peregrine falcon next hatched at 3 this afternoon, the Peregrine Fund reports, and the others are expected to follow soon after. As the first hatched, the second had already "pipped," which is the first stage of the hatching process.
According to the Peregrine Fund, "The first egg was laid on March 26th and the fourth and final egg was laid on April 2nd when incubation began in full earnest. If all of the eggs were fertile they should hatch within the next day or so." The nesting box is on a ledge high atop One Capitol Center downtown; you can watch live here on the Falconcam.
---
---