Thu., Jan. 5, 2017, 3:27 p.m.
Brody on joining high court: 'It is a position of trust like no other'
New Idaho Supreme Court Justice Robyn Brody was formally invested in her new office today, in a ceremony that included heartfelt remarks both from Brody and from new Chief Justice Roger Burdick; a ceremonial "robing" in which Brody's husband, 5th District Judge Jonathan Brody, helped her don her justice's robe for the first time; and an array of well-wishers, including federal and state judges and state officials, who filled the Supreme Court chamber to capacity for the ceremony and also watched a live stream from an overflow room.
Burdick said, "She comes to this court excellently prepared," with a "brilliant legal mind." "She will fit in very nicely with the other four members of this court," Burdick said. "I extend a formal welcome."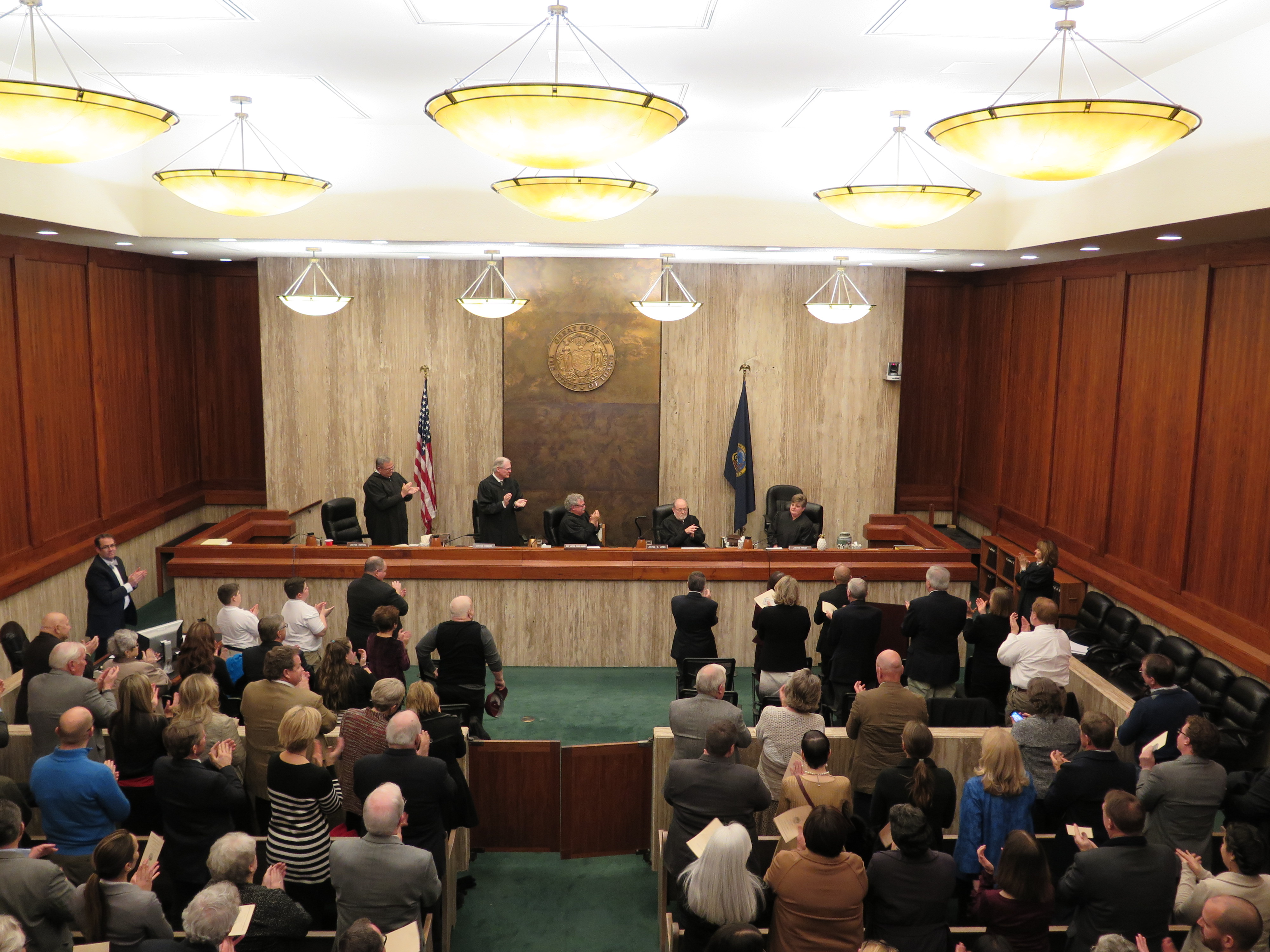 After Brody took her seat on the bench, she placed her nametag in front of her spot, which says, "JUSTICE BRODY." "That felt very sweet," she said to laughter.
Brody, a longtime attorney from Rupert, told the audience of well over 100 that when she's appeared before Idaho's highest court in the past, "I had one focus, and that was my client." Now, she said, from her new vantage point on the bench instead of in front of it, "This bench, this court has to look out and be the voice and advocate for all of you, everyone in this entire state."
"It is a position of trust like no other that I have ever experienced in my life," she said.
Brody was administered the oath of office by retired Chief Justice Linda Copple Trout. Brody is the third female justice on the court, which has been all-male since Copple Trout retired in 2007. Among those attending Thursday's ceremony was the other woman to serve on the Idaho Supreme Court, Cathy Silak, former dean and now vice president of Concordia Law School in Boise.
Burdick takes over as chief justice from Jim Jones, who retired at the end of his term; Brody was elected to take Jones' seat on the court. Jones served as chief justice for two years; prior to that, Burdick held that post for the previous four years.
---
---