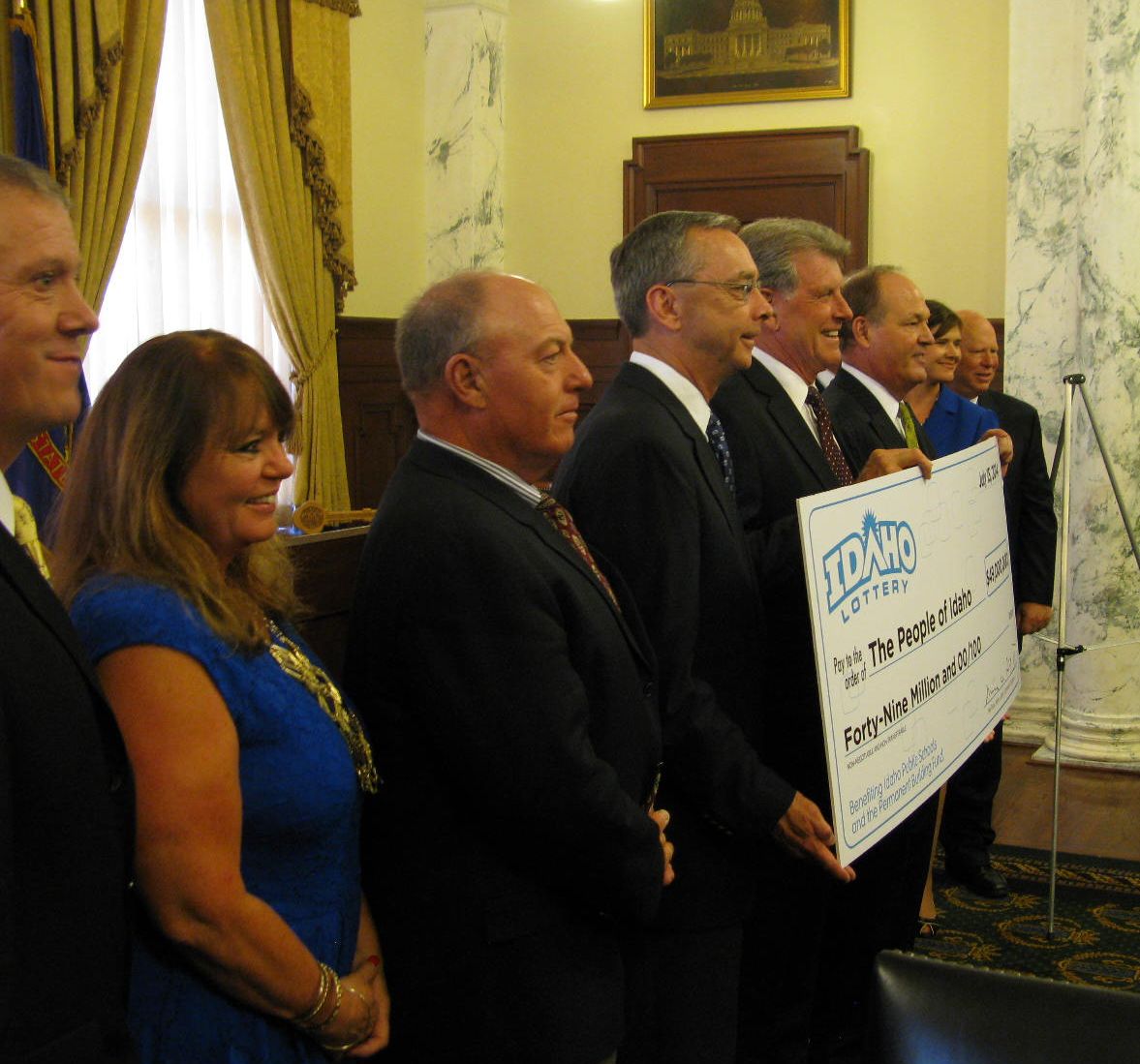 The Idaho Lottery celebrated its 25th year today by presenting a record dividend to the state of Idaho – the 11th straight year it's set a record. This time, $49 million went to the state, to be divided between schools and the state's Permanent Building Fund, which builds and maintains state buildings. That's up $800,000 from last year's profit. "The Idaho Lottery's reputation for security and responsible play continues to remain unblemished," said Jeff Anderson, state lottery director.
Idaho Gov. Butch Otter said the lottery's success is a tribute to "the faith that the people in Idaho had in our ability to operate something as sensitive as a gaming operation – a lottery. What makes the lottery is the integrity. When they buy a ticket, there's no monkey business with that. … They've got as good a chance (of winning) as anybody." Otter noted that Idahoans were skeptical about the idea of a state lottery. "We had to go back twice to the people of Idaho," he said, "and quite frankly, we won the lottery, and have won the lottery each and every year."
Implementation of Idaho's state lottery also opened the door to tribal gaming on the state's Indian reservations, under federal law, and Otter said that's overall been a win for the state as well, though he and Attorney General Lawrence Wasden recently filed an unsuccessful lawsuit attempting to block the Coeur d'Alene Tribe from opening a poker room at its North Idaho casino, and that dispute is ongoing.
Otter recalled when he chaired a gaming task force for then-Gov. Phil Batt and traveled the state, visiting all types of gaming operations, from tribal casinos to local race tracks. "We saw the proceeds from the tribal gaming actually being put to very good use, just like the use we put our lottery to," Otter said, including investments in education, roads, water treatment and more. "Overall, I would say it has turned out to be a positive for the tribes," he said, as well as "for those communities around the reservations."
Mel Fisher, chairman of the state Lottery Commission, said the lottery's sales have grown 50 percent in the past five years, and the dividend to the state's schools and building fund has doubled in the past 10 years. On average over the past 25 years, the lottery has brought in more than $71,000 a day for the state, he noted.
The Idaho Lottery sold its first ticket in July of 1989; it was purchased by the late billionaire J.R. Simplot. This year's dividend provides $30.625 million to schools, including $12.25 million for the bond levy equalization fund and $18.375 million for the state Department of Education's building fund account. The Permanent Building Fund this year gets $18.375 million. Overall, dividends returned to the state from the lottery since its inception now total $649.5 million.