Fri., June 1, 2012, 4:24 p.m.
Breast-Feeding Service Moms Gagged
Two local servicewomen who posed for photos in uniform as they breast-fed their children say they have been silenced by superiors. The photos, meanwhile, have spread across the Web amid a fresh wave of debate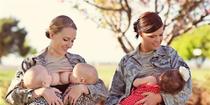 about breast-feeding in public. The photos were part of a campaign for the Mom2Mom Breastfeeding Support Group, launched in January by military wife Crystal Scott at Fairchild Air Force Base. They were going to be used on posters the group planned to hang on and off base for breast-feeding awareness month in August. They feature two Fairchild guardsmen and mothers, Terran Echegoyen-McCabe and Christina Luna, breast-feeding their babies while wearing their Washington Air National Guard uniforms. Echegoyen-McCabe said she did one interview before she was ordered to stop by her superior officers. "They ordered me not to speak to the media," she said before declining further comment/Chelsea Bannach, SR. More here.
Thoughts?
---
---