Thu., June 9, 2011, 2:33 p.m.
Bathroom breaks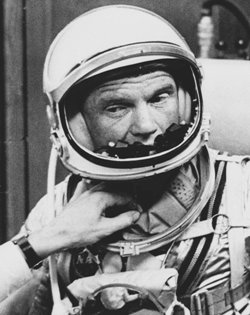 It's a little embarrassing, perhaps, but one dangerous place in your house is the bathroom.
The Centers for Disease Control and Prevention reported today that "In one year, an estimated 234,000 people ages 15 and older were treated in U.S. emergency departments for bathroom-related injuries—an average of about 640 people each day."
IMost common injuries? Cuts, scrapes, and bruises. Rates of fractures and hospitalizations were highest among adults ages 65 and older.
People sometime cite famous astronaut John Glenn's bathroom fall as an example of life's weird twists and turns. He survived a historic ride to space only to slip on a bathroom rug at home on Feb, 26, 1964, screwing up his inner ear balance for a long time.
So hey, be careful in there.
(AP archive photo)
---
---