Tue., May 17, 2011, 9:43 a.m.
Harmon Killebrew has died at age 74
Update: Harmon Killebrew died this morning at age 74. Here's Catherine's post from Sunday, with childhood photo of Catherine (with glasses holding puppy), her two sisters and the Killebrews, Elaine and Harmon.
Harmon is heading for home
Harmon Killebrew - Baseball Hall of Famer with 573 home runs - is making his way toward home for the last time. He announced last week that he is seeking hospice care after fighting esophageal cancer.
As a Minnesota-grown girl, my Minnesota Twins hero was Harmon Killebrew . And I have a 1967 scrapbook that says so.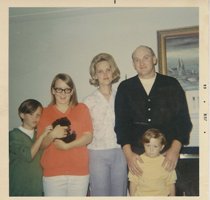 The Killebrew family also lived in our Edina, Minnesota neighborhood for a brief time. We met when their family dog ran away from home and everyone helped in the search. When their dog gave birth to puppies, my sisters and I convinced our parents that a poodle puppy was essential to our happiness. We named the puppy - what else? - Homer.
Mrs. Killebrew asked me to baby-sit one evening when she needed to run errands. It was 1968 and the night of the All-Star game. Harmon was playing. I was stunned that she was not home watching the game! But family life carried on and she managed the daily details. Then a baseball official called to report Harmon's injury to his hamstring muscle. I remember feeling the anxiety of sharing the news with Mrs. Killebrew. Harmon recovered and eventually resumed his career.
Harmon Killebrew played baseball before the sport was riddled with steroids, sex scandals and obscene salaries. Killebrew's generous demeanor: "Sure, I'll sign autographs!" made him a credible ambassador for baseball as well as a role model of integrity and kindness.
Thank you, Harmon Killebrew, for sharing your baseball passion and talent with all your fans; for sharing your gentle spirit off the field with neighbors and friends. And as you make this final journey, heading for home, please glance back - at your fans, your baseball colleagues and friends, who send you forth with great gratitude and our prayers.
---
---