Thu., May 26, 2011, 4:29 p.m.
One more damn thing to worry about
Because of this column, I get emails from the Centers for Disease Control and Prevention. The agency sends out a weekly morbidity and mortality report with other items of interest.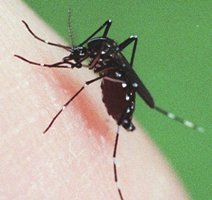 Today, they had a little tidbit about Jamestown Canyon virus, spread by mosquitoes, and recently spread to the Northwest. I have never heard of this one before.
If I'm reading the release correctly, it's going to be a bad mosquito season all around.
Read the summary, and judge, for yourself:
Jamestown Canyon virus (JCV) is a mosquito borne pathogen that circulates widely in North America primarily between deer and a variety of mosquito species. JCV can also infect humans, but reports of human JCV infections in the United States have been rare and confined to the midwestern and northeastern states. Most reported illnesses caused by JCV have been mild, but moderate-to-severe central nervous system involvement including meningoencephalitis has been documented. In May 2009, the first human case of JCV infection in Montana was detected, suggesting that the geographic distribution of human JCV infection is wider than previously recognized, and that increased JCV surveillance is needed to determine whether mosquito-borne viruses other than West Nile virus (WNV) pose a risk to humans in the region. The recent detection of a human JCV infection in Montana with illness onset in May means that mosquito borne virus transmission and disease begins in spring and lasts until the first freeze and indicates a much longer mosquito-borne disease risk than previously indicated by WNV alone.
(AP archive photo)
---
---