Tue., Feb. 3, 2009, 9:15 a.m.
UI Prez Condemns Fans' Behavior
The raucous, hostile behavior of some University of Idaho fans at Thursday night's men's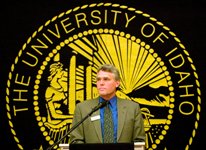 basketball game against Boise State University prompted UI Interim President Steven Daley-Laursen to send an e-mail letter to the campus community on Sunday condemning those fans' actions. The urgency of Daley-Laursen's letter — he did not wait until Monday to send it — emphasizes the serious consequences of what happened. His description of the behavior as "ugly, outrageous and utterly unacceptable" is entirely accurate. We are living in a time when cameras are ubiquitous. Flagrant and embarrassing behavior in public is an invitation to be filmed and made a spectacle of on the Internet. It happened in the fall at a football tailgating event. Several UI students who openly attacked BSU had their exploits filmed and posted on the Web site of BSU's student newspaper/Holly Bowen, UI Argonaut. More here.
Question: Do you support the interim president's reaction to fan support for the University of Idaho? Or will his reaction squelch fan reaction that has been missing for years?
---
---