Wed., Feb. 4, 2009, 3:53 p.m.
Finalist Wants To End Career At UI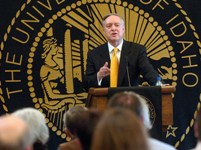 Duane Nellis stood before a packed house at the University of Idaho on Tuesday and said he would like to finish his career by making it a better school. Nellis, 54, is the provost and senior vice president at Kansas State University, and one of two finalists for the top job at the UI. He told those who attended a 90-minute open forum the next UI president needs to stick around for a while if he is to build lasting, fruitful relationships with donors, the business community and state government. "You can't do it if you're only there for a few years," Nellis said. "You need some stability. I'm looking at my next move as a president as hopefully my last move"/Joel Mills, Lewiston Tribune. More here. 
Question: Is it important to you that the new University of Idaho president stay on the Moscow campus at least five years?
---
---