Fri., Feb. 6, 2009, 11:20 a.m.
EchoHawk Apologizes For Stand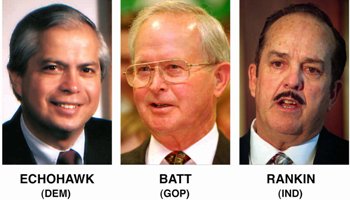 The biggest strike against EchoHawk (shown as a 1994 gubernatorial candidate with Republican winner Phil Batt and Independent Ron Rankin) has been repeated time and again throughout Indian country: When he served as Idaho's attorney general from 1991 to 1995, he called on the governor to change the language of state legislation so the state no longer would have a legal obligation under the Indian Gaming Regulatory Act to negotiate for Class III gaming with Idaho's tribes. It's a true charge, and EchoHawk is now making a special effort to indicate that he isn't in favor of taking away any tribal gaming rights if he gets the nod to head the BIA/Rob Capriccioso, Indian Country Today. More here.
Question: Should local Indian tribes support Larry EchoHawk's nomination for the Indian Affairs post, given his past opposition as Idaho attorney general to Indian gaming?
---
---