Sat., Feb. 7, 2009, 12:14 a.m.
OTV Review: Susie's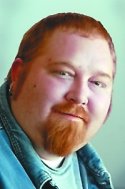 There aren't many places left in our modern realm that harbor such a rarefied, historic aroma like the one that hits like a whammy upon entrance to the bar portion of Susie's, where Q. and I landed one recent Saturday morning. It's a mix of cigarettes, dust, the men's room, heavy cuisine, beer taint, and loads and loads of time. Not that it's necessarily a terrible odor, in fact it's oddly comforting, reminiscent of an era when it was possible to sit down with your neighbors and loved ones and have Whiskey Sours and Pall Mall Lights with your bacon, eggs and hotcakes. It's a scent that seems to have been present in nearly every diner/lounge or truck stop I dined at as a child in the 1970s, the last truly carefree era before health freaks ruined it for everyone with their overwrought concerns about the dangerous effects of second-hand smoke, trans-fat and getting drunk by noon/OrangeTV, Get Out! North Idaho. More here.
Question: Do you have a favorite eatery in the north end of Kootenai County?
---
---