Wed., Feb. 11, 2009, 3:08 p.m.
Keough: What About Quagga Mussels?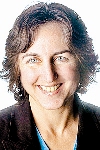 Sen. Shawn Keough, R-Sandpoint, noted that the Legislature has "been very generous when we've had the money to be proactive on milfoil, and with the leadership of Rep. Anderson and others, made some great strides." But now, she said, "Obviously, in our economic downturn we're at a crisis point, and we have quagga mussels looming 100 miles from our border, so there's a grave concern." She asked state Ag Director Celia Gould if she's "identified other funding sources that could help us with this threat?" Gould responded, "We just haven't found that money tree for quagga mussels"/Betsy Russell, SR Eye On Boise. More here.
---
---