Sat., Feb. 14, 2009, 12:45 a.m.
OTV: East Sherman V-Day Getaway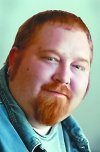 Irish author and notorious wit Oscar Wilde once observed "Who, being loved, is poor?" In this long cold winter of recession, even with your sweetheart to keep you warm, the quick answer to that question is, well, just about everybody. Still, it's Valentine's Day and you want to do something special to show your true love exactly how much they put your gizzy in a twirl without going too far in the red. You sent away for a Gold Kit envelope, and returned it filled with the tacky jewelry you inherited from your great Aunt Fanny. The local Coin Star machine repairman knows you on a first name basis. You cut off your long, gorgeous hair and sold it on the black market to a drag queen in desperate need of a weave. Now you've finally got some cash together, but how can you take your sweetie on a whirlwind trip to the moon for $187? Why not stay right here in Coeur d'Alene and have a Romantic East Sherman Valentine's Day getaway?/OrangeTV, Get Out! North Idaho. More here.
Question: Do you frequent any East Sherman Avenue business?
---
---